Footage has emerged of the Korea Aerospace Industries (KAI) KF-21 Boramae fighter conducting ground tests.
In a video posted on YouTube, the prototype fighter was seen taxiing across a temporarily closed road. Examination of Google Earth indicates that the fighter was heading north from KAI's production facility to the taxiways and single runway of Sacheon airport.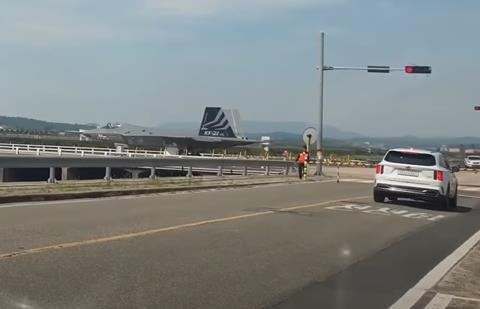 Once on the runway, the fighter's pilot advances the throttle. After remaining stationary for a few moments, the fighter accelerates down the runway for a short distance, before slowing down again.
It is not clear when the video was filmed, but media reports indicate that the fighter has powered up and started ground tests, pending a first flight before the end of 2022. FlightGlobal has contacted KAI for comment.
The KF-21 is South Korea's most ambitious aerospace project to date. Powered by two GE Aviation F414s, it is aimed at replacing Republic of Korea Air Force McDonnell Douglas F-4s and Northrop F-5s.
Plans call for 120 examples to go to South Korea, and 50 to junior partner Indonesia.
KAI also sees potential for the KF-21 to replace legacy Lockheed Martin F-16s on the international market, although with twin-engines its operating costs are likely to be higher than for single-engined fighters.
Assembly of the first prototype commenced in 2020, with the roll-out occurring in 2021. Service entry for the fighter is envisaged in 2026.
Meanwhile, airborne testing is underway for the fighter's active electronically scanned array (AESA) radar aboard a modified Boeing 737-500 bearing the registration ZS-TFJ (MSN 26541), operated by South Africa's Aircraft Instrument and Electronics.
According to flight tracking site FlightAware, the jet made five sorties from Seoul Incheon International airport in June, with flights running from 2-3.5h.
The flights were operated over the Yellow Sea off South Korea's west coast with altitudes ranging from 12,000-30,000ft.
The KF-21's AESA radar was developed locally, with Hanwha Systems providing the hardware and LIG Nex1 the software.