A Korea Aerospace Industries (KAI) KF-21 prototype has made its air show debut at the Seoul ADEX defence show, with the company affirming that the programme is well on track.
A single-seat KF-21 flew as part of the show's opening ceremony on 17 October, part of a Republic of Korea Air Force armada that included KAI FA-50s, Boeing F-15Ks, Lockheed Martin F-16s, Lockheed F-35s, as well as support types such as KAI Surion helicopters and an Airbus Defence & Space A330 multi-role tanker transport.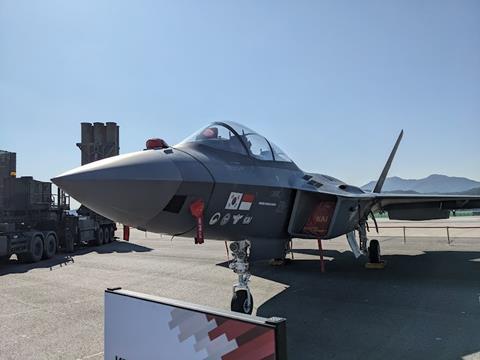 A twin-seat KF-21, the sixth and final prototype and second two-seater, also appeared in the show's static park. Despite persistent reports that Jakarta is tardy with payments for its junior role in the programme, the aircraft bore both the Indonesian and South Korean flags.
The KF-21 is a major element of KAI's presence at this year's show, which is greatly expanded in scope given South Korea's various aircraft acquisition plans, as well as its growing role in the defence export market.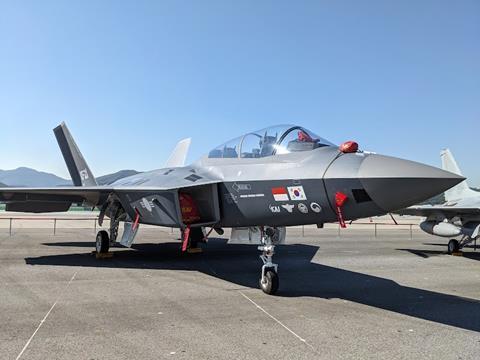 At the show, the aircraft is illustrated flying with 'Adaptable Aerial Platforms' (AAPs), a conceptual unmanned combat air vehicle that resembles the Boeing MQ-28 Ghost Bat. KAI envisages the back seater in a two-seat KF-21 commanding the AAPs, which will perform missions such as intelligence, surveillance and reconnaissance, electronic warfare, and strike. The AAPs can also serve as decoys.
KAI officials say the KF-21 programme remains on track, with development to end in 2026 after a few hundred more test flights have been completed. Mass production is set to commence next year, with deliveries to the ROKAF to begin in the second half of 2026.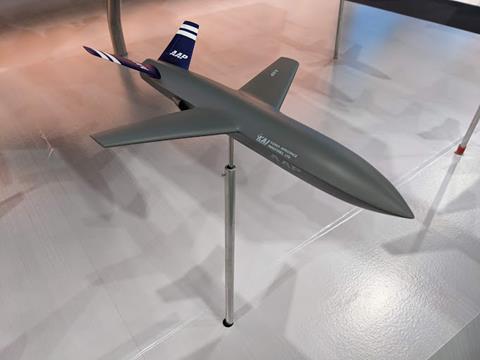 The combat aircraft is powered by two GE Aerospace F414 engines and is pitched as an "affordable mid-class fighter", with 10 hardpoints for weapons.