The developmental Korea Aerospace Industries (KAI) KF-21 fighter has broken the sound barrier for the first time, in a milestone for South Korea's aerospace sector.
The flight took place on 17 January from KAI's production facility in Sacheon, says South Korea's Defense Acquisition Program Administration (DAPA).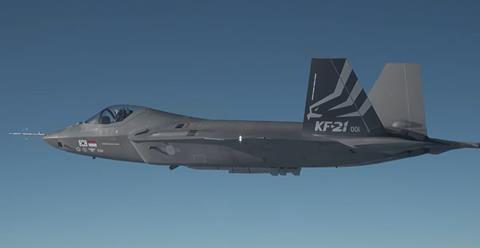 A video posted by South Korea's defence ministry shows prototype 001 – accompanied by a Lockheed Martin KF-16 chase aircraft – breaking the sound barrier. It includes head-up display footage indicating the maximum speed attained was Mach 1.05 at a radar altitude of 39,600ft.
The aircraft was not in a clean configuration, but carried MBDA Meteor air-to-air missiles under its fuselage.
The flight involved aircraft 001, the first KF-21 prototype that had its maiden sortie in July 2022.
According to DAPA, the fighter demonstrated stability in the transonic range around the sound barrier.
"The fact that the KF-21 flew normally by overcoming shock waves when breaking through the [sound barrier] shows that the structural integrity of the aircraft can be maintained at supersonic speed," it says.
DAPA notes that another South Korean aircraft, the KAI T-50 advanced jet trainer, has also previously broken the sound barrier. It points out, however, that the T-50 family was developed in cooperation with the USA. While the USA, and particularly Lockheed, is involved with the KF-21, the aircraft's shaping was created domestically.
The aircraft is powered by a pair of GE Aerospace F414 engines, like the Boeing F/A-18E/F Super Hornet. The Super Hornet's top speed is given as Mach 1.6.
"Thanks to the dedication and hard work of countless people, we were finally able to achieve the historic achievement of having the first supersonic aircraft developed with domestic technology," says defence minister Lee Jong-seop.
The milestone came just 12 days after the third KF-21 prototype – aircraft 003 – conducted its maiden sortie on 5 January.
Three additional prototypes are set to join the flight-testing campaign this year, with the goal of expanding the type's flight envelope.