The development programme for the Korea Aerospace Industries KF-21 fighter has started tests with a new active electronically scanned array (AESA) radar installed.
The flight test with the new, indigenously developed AESA set took place on 4 March, according to South Korea's Defense Acquisition Program Administration (DAPA). The flight involved the third of six planned KF-21 prototypes.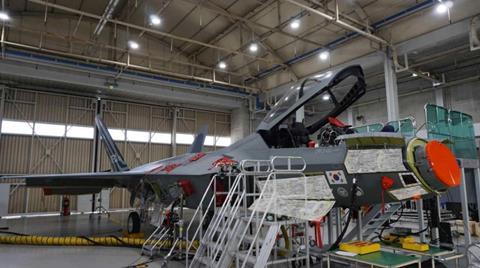 The installation of the set on the KF-21 itself follows a series of flight tests that saw the radar mounted aboard a Boeing 737-500 bearing the registration ZS-TFJ (MSN 26541) and operated by South Africa's Aircraft Instrument and Electronics.
According to DAPA, the 737 conducted 18 flight tests between November 2022 and February 2023, focusing on 25 test items in the air-to-air mode.
In March 2022, DAPA announced plans to mount the radar on a 737. Subsequently, ZS-TFJ operated a number of sorties over the Yellow Sea.
AESA development work until 2026 will look at maximum detection ranges in air-to-air mode, as well as tracking distance and accuracy.
The KF-21's AESA radar was developed locally, with Hanwha Systems providing the hardware and LIG Nex1 the software.
In 2021, Hanwha inked a deal with Israel's Elta Systems – a unit of Israel Aerospace Industries – related to AESA work. Elta was involved with producing the radar prototype, and is also understood to be involved with airborne tests.
The AESA radar ranks among the most challenging elements for the KF-21 programme. Seoul had originally sought to acquire the technology from the USA, but export restrictions precluded this.