Kongsberg Aviation Maintenance Services has been awarded a contract by the Norwegian Defence Materiel Agency (NDMA) "to overhaul and make ready for sale an additional batch of [ex-Royal Norwegian Air Force Lockheed Martin] F-16 aircraft".
Announcing the deal on 24 May as worth NKr200 million ($20.9 million), Kongsberg says the NDMA "has entered into a contract with Draken International for the sale of up to 12 former Norwegian F-16s and is in the process of completing the sale of another 32 aircraft to Romania".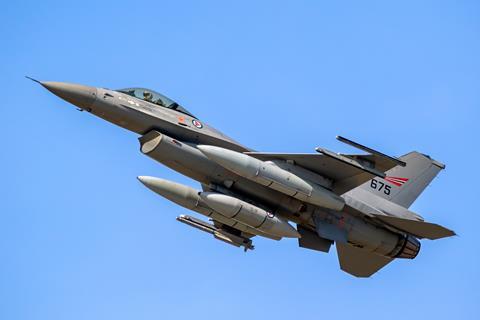 "The aircraft will be returned to operating status and then maintained so that they are ready for service again," Kongsberg says. Also covering the overhaul of their Pratt & Whitney F100 engines, the work will be performed at its facilities in Kjeller near Oslo.
"Pending official approval from the Norwegian and American authorities, the first aircraft are expected to be delivered to Draken this year and Romania during 2023," it adds.
"I'm confident that our aircraft will serve Draken and Romania well for a number of years to come," says Magnus Hansvold, director for materiel disposal at the NDMA.
Norway in January 2022 ended 42 years of operations with its F-16s. Cirium fleets data records 55 examples as being in storage or retired, including 45 single-seat As and 10 B-model trainers.
Oslo's frontline fighter capability is now provided via its ongoing acquisition of Lockheed F-35As. Cirium records 34 of the type as in active service for the nation, with six more on firm order and another 12 listed as options.