Korean Air Aerospace Division (KAL-ASD) has secured contracts from the US military related to the Sikorsky H-53E helicopter and Lockheed Martin F-16 fighter.
The H-53E work covers US Marine Corps CH-53E Sea Stallions and US Navy MH-53E Sea Dragons based in the Asia-Pacific, says the company. The value of the work is W150 billion ($136 million) and runs from December 2020 to May 2029.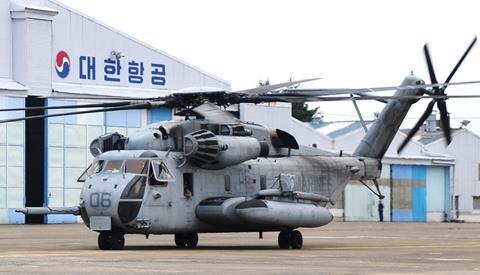 The CH-53E is used to transport troops and cargo, while the MH-53E is a mine countermeasures asset.
KAL-ASD will provide inspection, replacement, repairs, and testing services for major structures and components in the helicopter. The H-53E news follows a separate contract related to US Air Force F-16s deployed to Japan and South Korea.
"The life extension project performed by Korean Air is the highest level of aircraft maintenance, which consists of verification of the reliability of the main parts of the aircraft and wings of the F-16 fighter, disassembly/inspection/rust prevention treatment to extend the life of the aircraft, and replacement of the main structure," says KAL-ASD.
"This will allow the aircraft to fly an additional 4,000 hours."
The F-16 contract runs from November 2020 to September 2030, and is valued at W290 billion.
The company has long performed maintenance work for US aircraft based in the region, on types such as the Boeing F-15, Lockheed C-130, Fairchild-Republic A-10 and Sikorsky UH-60. It notes that it has refurbished over 860 F-16s since 1984.