L3Harris is teaming up with Korean Air for South Korea's requirement for a new airborne early warning and control (AEW&C) aircraft.
The two firms signed a "comprehensive business cooperation" on 5 December, according to Korean Air's Aerospace Division – KAL ASD.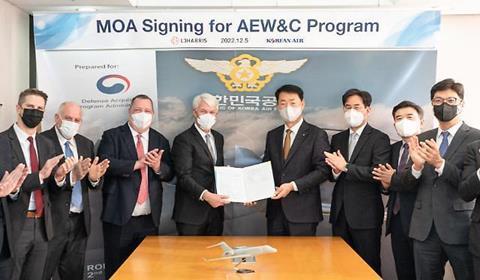 KAL-ASD says that L3Harris will ensure an AEW&C platform that will "significantly reduce prices and maintenance costs compared to existing [AEW&C aircraft], and transfer system integration technology to Korea."
Should the pair's AEW&C proposal be selected by Seoul's Defense Acquisition Program Administration (DAPA), KAL-ASD would undertake integration work at its Busan Tech Center facility.
L3Harris has yet to comment on the agreement. It is also not clear, for example, what specific aircraft platform will be put forward for AEW&C modification.
South Korea's requirement for additional AEW&C assets emerged in the late 2010s, with Seoul aiming to complement its four Boeing 737-based E-7 Wedgetails.
Parties that have expressed interest in the AEW&C requirement are Boeing with more E-7s and Saab with its GlobalEye system. Israel Aerospace Industries, a contender in the original E-X competition that eventually went to the E-7, also remains active in the AEW&C market.
South Korea's original plans called for two new AEW&C aircraft to be obtained, with a request for proposal (RFP) in December 2021, followed by a downselect by the end of 2022. FlightGlobal understands that an RFP has yet to emerge.
The Korean Air/L3Harris tie up suggests that the competition still has traction.
Nonetheless, the US Air Force's (USAF's) 2022 decision to replace its Boeing E-3 Sentries with E-7s may have influenced DAPA's views on the AEW&C acquisition.
USAF adoption of the E-7 will ensure upgrades over the years. In addition, the USA is South Korea's most important military ally, placing a premium on interoperability.