A committee of lawmakers has slammed the UK government's decision to reduce its purchase of Boeing E-7 Wedgetail airborne early warning and control aircraft as "an absolute folly" that offered minimal financial savings.
In a new report, the House of Commons Defence Select Committee singles out the Wedgetail acquisition as one of three case studies – one from each service – as evidence that the UK Ministry of Defence's (MoD's) procurement system is unfit for purpose.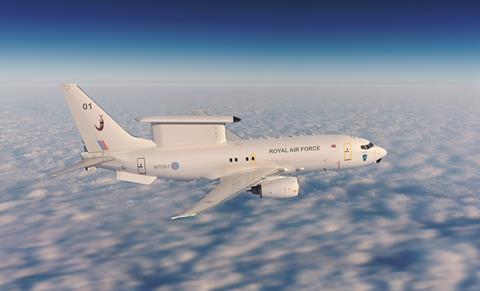 Titled It is broke - and it's time to fix it: The UK's defence procurement system, the report details how the UK's 2019 contract for five 737-derived E-7s was trimmed to three aircraft for budget reasons following the Defence Command Paper of 2021.
However, the acquisition cost did not decrease proportionally, only falling from £2.1 billion ($2.7 billion) to £1.89 billion. This, says the report, was "partly because the MoD is contractually obligated to buy five associated airborne radars, regardless".
"Even basic arithmetic would suggest that ordering three E-7s rather than five (at some 90% of the original acquisition cost) represents extremely poor value for money," it states.
It also notes that initial operational capability (IOC) for the platform, having already been pushed into 2024, from a previous 2023 target, could slip further "if the MoD receives its first E-7 in late 2024".
"Boeing has put the delay down to supply chain issues related to Covid-19 and related workforce issues," says the report.
However, it points out that the UK's Defence Equipment & Support procurement body is "still negotiating a [full business case] and associated in-service support contract with Boeing, which should already have been successfully finalised long ago".
In the meantime, the Royal Air Force's retirement of its Boeing E-3 Sentry fleet prior to the Wedgetail's arrival has "created an important capability gap", says the committee.
"Moreover, the three E-7 Wedgetails which the RAF still intends to buy will be absolutely 'prize targets' for the air force of any potential adversary," it says.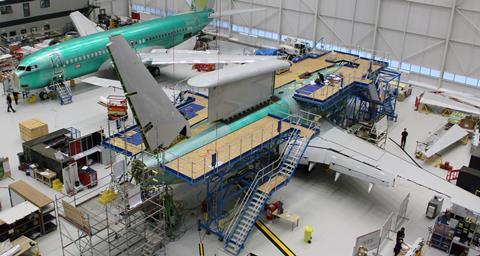 "This makes the reduction in planned airframes from five to three appear an even greater false economy, indeed an absolute folly, not just in financial but also in operational terms as well."
Responding to the report, the MoD says it is "making good progress on defence procurement", adding that "through decisions on E-7 we have made savings of £720 million."
Speaking to FlightGlobal at the recent Royal International Air Tattoo, Dan Gillian, Boeing Defense, Space & Security vice-president and general manager mobility, surveillance and bombers, said the first of the UK's aircraft is on track for delivery "towards the end of next year".
All three of the RAF's aircraft – one new-build example and two former VIP-roled jets – are undergoing conversion to the Wedgetail standard with STS Aviation Services in Birmingham, the UK.
More broadly, the committee concludes that the UK's procurement system is "highly bureaucratic, overly stratified, far too ponderous, with an inconsistent approach to safety, very poor accountability and a culture which appears institutionally averse to individual responsibility".
It is, the report says, "now in need of major, comprehensive reform" in order to "provide a procurement system which is demonstrably 'fit for purpose' in the 21st century".
The committee makes 22 recommendations, designed to increase accountability, improve the speed of project delivery, and prevent "endless 'requirements creep' by our own military".
"This reformed system should also make much greater use of both spiral development and also Urgent Capability Requirements both as a procurement methodology in itself but also as a 'mindset', which stresses the imperative of delivering battle-winning equipment, in a timely manner and at an affordable cost," it adds.

Dominic Perry is deputy editor of Flight International but also contributes extensively to flightglobal.com. Although specialising in the coverage of the helicopter industry, he has written on most topics in aerospace – be they commercial, defence or business aviation. In addition, there has been an increasing focus on the decarbonisation of the industry and zero-emission flight initiatives.
View full Profile