Leonardo's chief executive is confident that an agreement setting out the roles of each of its industrial partners in the multi-national Global Combat Air Programme (GCAP) can be signed off by the end of the year.
The Italian aerospace firm is working alongside the UK's BAE Systems and Japan's Mitsubishi Heavy Industries (MHI) on the GCAP effort – a tri-national programme to develop a sixth-generation combat aircraft capability, including the Tempest fighter, for their respective governments.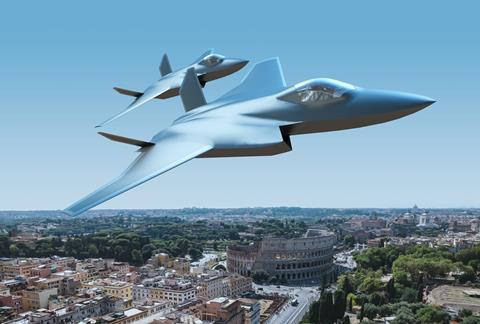 Presenting Leonardo's third-quarter results on 9 November, chief executive Roberto Cingolani said he had just returned from a three-day visit to Japan where he met with the ministers of defence, economy and digitalistion, alongside his counterpart at MHI.
"We were rediscussing, in a very effective way, what should be the role of Leonardo in the GCAP consortium," he says.
Describing the talks in Japan as "very fruitful", Cingolani says they will continue over the next two weeks "and then we will close the loop with our UK colleagues".
"I am confident that we can end with a joint-venture [agreement] signed by the end of the year," he says.
"Of course, we have to negotiate a little bit some of the technical details and roles, but I think we are on the right way."
But Cingolani is clear that to address the "very big challenge" of GCAP successfully – developing a stealthy sixth-generation fighter within 15 years that is also capable of interacting with an unmanned system-of-systems – "we need to have a very clear technical statement behind that".
As such, all parties must set out "a very detailed description of what we want to do", he adds.
Although he expects "some enquiries", at present there is no sign of any other countries signing up to the project. Cingolani dismisses Germany's suggested interest in switching from the Future Combat Air System programme with France and Spain as "just rumours".
"Other countries in the Middle East would like to participate, but this is still at the chatting level," he says.
Elsewhere, Cingolani – who started in the chief executive role six months ago – has begun the process of "reshaping and streamlining" Leonardo's unmanned systems activities, including axeing its interest in the solar-powered Skydweller high-altitude pseudo-satellite, he says.
In addition, he says Leonardo "has decided not to participate" in the ongoing sale of Piaggio Aerospace by its administrators.
"We don't want to be in the business of small aircraft – that would be a distraction."
This article has been ammended to correct an error in the 12th paragraph regarding the status of the Skydweller programme.

Dominic Perry is deputy editor of Flight International but also contributes extensively to flightglobal.com. Although specialising in the coverage of the helicopter industry, he has written on most topics in aerospace – be they commercial, defence or business aviation. In addition, there has been an increasing focus on the decarbonisation of the industry and zero-emission flight initiatives.
View full Profile