Leonardo has provided details of the self-protection suite it is offering as part of its AW149 pitch for the UK's New Medium Helicopter (NMH) requirement.
While the medium-twin is already available with Leonardo-provided defences including laser- and radar-warning receivers, and chaff and flare dispensers, the company is proposing a more comprehensive electronic warfare (EW) suite for the UK customer. This draws on its experience with providing the defensive aids system for the Royal Air Force's Beechcraft King Air 350-derived Shadow R1s and its future Boeing E-7A Wedgetail airborne early warning aircraft.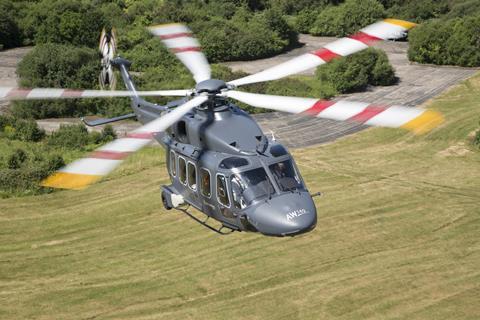 Tom Chase, head of capability integrated EW systems at Leonardo UK, says the AW149 offer features the company's Modular Advanced Platform Protection System (MAPPS). Key elements are to include Miysis directional infrared countermeasures turrets, Seer radar-warning receivers, RALM laser-warning receivers and Sage electronic support measures equipment. Cockpit and cabin ballistic armour are among further options.
The airframer – which plans to produce the AW149 at its Yeovil plant in southwest England if selected for the up to 44-aircraft NMH requirement – also is touting the airframe's survivability characteristics.
Ballistic tests have been conducted on airframe components – including main and tail rotor blades – with up to 12.7mm-calibre armour-piercing bullets, and modelling conducted on aircraft vulnerability in various phases of flight.
"The 149 has excellent protection as different attitudes. [We have had] really good results, with low kill probabilities," says Mike Overd, Leonardo Helicopters' chief engineer for military aircraft UK. The company also has tested the model's landing gear at "military descent rates" of up to 42ft/s, and performed drop tests with fuel tanks and surrounding structures.
Additionally, Leonardo is promoting the safety of its product in the event of a loss of main gearbox lubrication, noting a "run-dry" performance of up to 50min, or 100nm (185km).
Meanwhile, the company is continuing to expand the aircraft's military performance, including during firing trials at an undisclosed European location. Leonardo Helicopters UK senior test pilot Lee Evans says this activity has so far totalled over 70h and included firing more than 200 guided and unguided rockets.
"I continue to be impressed with the aircraft's capability as a weapon-firing platform," says Evans. He describes the AW149 as being "inherently fast, incredibly agile, and a very stable platform when targeting and firing weapons".
"We see an addressable market of about 500 aircraft for a 149-type of product," says Mike Morrisroe, head of UK campaigns at Leonardo Helicopters. "Within that, we see a number of requirements for external weapons. From the outset, in terms of the design through development and testing, we have had in mind not just rockets, but other weapons."
Leonardo plans to conduct additional trials from later this year, but will not disclose the next weapon system to be demonstrated from the aircraft.
An AW149 will participate in the flying display at the Royal International Air Tattoo at RAF Fairford in Gloucestershire on 15 July, before joining Leonardo's static exhibit attractions at the 18-22 July Farnborough air show.
Speaking at a pre-Farnborough event in London on 12 July, Leonardo chief commercial officer Pasquale Di Bartolomeo said the company intends to be the leading European player in defence electronics, and pointed to its 2021 acquisition of a 25.1% ownership stake in Germany's Hensoldt.
Craig Hoyle joined Flight International in 2003, and has edited the now monthly title since 2015. He has reported on the UK, European and international military aviation sector for more than 25 years, and produces our annual World Air Forces directory.