Leonardo appears to have secured a new order for its M-346 advanced jet trainer on top of a likely commitment from Elbit Systems for the type.
Disclosing its first-quarter performance on 6 May, the Italian aerospace and defence group noted that new orders at its aircraft division had improved against the same period in 2020 "thanks to the finalisation of a major contract for the export of M-346 aircraft."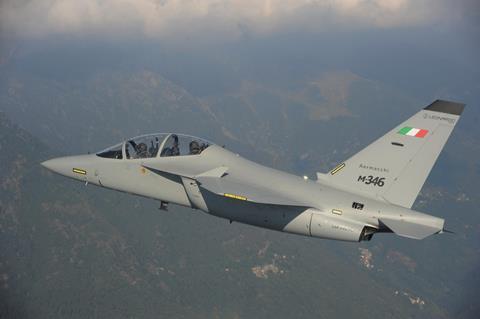 Elbit in April was awarded a $1.65 billion, 20-year contract by Greece covering the establishment and operation of an international flight training centre for the Hellenic Air Force. The Israeli firm will provide 10 M-346 aircraft for the requirement.
However, Leonardo confirms the latest export deal is for another undisclosed customer and is unrelated to the Elbit commitment.
New orders in the aircraft division during the first three months of the year stood at €595 million ($717 million), a 15% increase on the €515 million recorded a year earlier.
Divisional revenues also rose to €510 million, up from €431 million, due to "higher production volumes achieved… in particular on the line of M-346 trainers".
Cirium fleets data lists a backlog of 10 M-346s: four from a total 16-aircraft commitment for the Polish air force, and six for an undisclosed customer, widely believed to be Turkmenistan.