The UK is poised to field further capability enhancements with its Royal Air Force (RAF) fleet of Eurofighter Typhoons, with the Rafael Litening V targeting pod expected to enter use with the type before year-end.
Featuring advanced optics, the new-generation pod will offer enhanced target generation performance, says Andrew Mallery-Blythe, Typhoon operational requirements manager at BAE Systems' Air sector.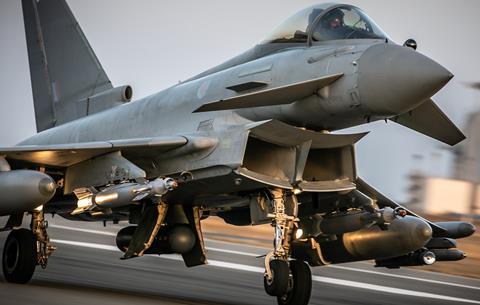 Other near-term updates are likely to include the introduction of BAE's digital Striker II helmet, with full colour, wide field of view and night vision capability, says Paul Smith, the UK company's head of business development, Typhoon capability.
And regarding a pending update to the fighter's self-protection suite, a clearance process in under way to clear it to use the BriteCloud air-launched decoy, notes Dave Morris, Leonardo UK's head of campaigns, major air programmes.
Speaking at the DSEI show in London on 15 September, Mallery-Blythe noted that the RAF's Project Centurion activity, which rapidly added new capabilities ahead of the Panavia Tornado GR4's retirement, "put the UK a long way ahead of the [other Eurofighter] partners – it fragmented the programme".
Completed in late 2018, Project Centurion enabled UK Typhoons to operate with the MBDA Meteor beyond-visual-range air-to-air missile and Storm Shadow cruise missile, and fully integrated Raytheon Systems' Paveway IV precision-guided bomb.
"We have benefitted from three years of experience, and all the lessons will feed into the core [Eurofighter] programme," Mallery-Blythe notes.
"This aircraft has made astonishing progress in the last few years," he says. "It is now a very credible swing-role aircraft."
Morris notes that the RAF's introduction of the Leonardo-developed ECRS Mk2 active electronically scanned array radar from later this decade will represent a "significant leap forward".
To be capable of conducting electronic attack tasks, the sensor and MBDA's developmental Spear EW missile will combine to provide the UK with "a really significant suppression of enemy air defence capability", he adds.