The Royal Danish Air Force's first F-35A was rolled out at Lockheed Martin's Fort Worth site in Texas on 7 April, as the service edges closer to retiring its long-serving F-16 fleet.
First flown in early March, Denmark's lead aircraft, L-001, will be transferred to Luke AFB in Arizona later this month, where it will be used in support of pilot and maintainer training. The nation's next six production aircraft will also initially be used at the site.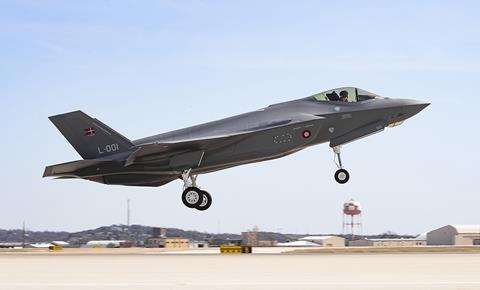 Denmark's fighter transition schedule calls for its first F-35As to in 2023 arrive at Skrydstrup air base, where construction work is already underway to accommodate the stealthy type. The nation's last F-16s will be phased out during 2024, with the new type to be declared ready for international operations the following year. Full capability is due to follow in 2027.
Copenhagen – which will field a 27-strong fleet of the conventional take-off and landing F-35A – has so far ordered its first two examples. Its air force currently operates 43 F-16A/Bs aged between 31 and 40 years, Cirium fleets data shows.
"The reception of the first Danish F-35 is a strong symbol of a significant change, not just for the air force, but for the entire Danish defence," says chief of defence General Flemming Lentfer.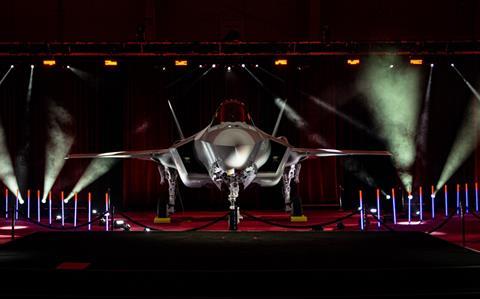 "With the F-35, we want to strengthen our capabilities to protect Denmark, our region and where necessary, as we have done before, side by side with the United States and other allies," adds defence minister Trine Bramsen. "The F-35s will be at the absolute centre for the Danish defence in the coming decades."
"The F-35 will ensure Denmark's sovereignty and air dominance, enhance its multi-domain and network-based coalition operations, and play a pivotal role in keeping the Arctic a secure and stable region," says Lockheed Martin Aeronautics executive vice-president Greg Ulmer.
Lockheed notes that Danish suppliers – including Multicut and Terma – manufacture "pylons, advanced composites, software solutions, radar components and horizontal tail edges for every F-35 delivered".