The UK is so short of operational jet trainer aircraft due to an engine issue afflicting the Royal Air Force's (RAF's) fleet of BAE Systems Hawk T2s that it is having to send pilots abroad for fast-jet training.
Revealed in written evidence to the House of Commons Defence Select Committee as part of its investigation into aviation procurement, the admission shows the difficulties faced by the UK's Military Flying Training System (MFTS).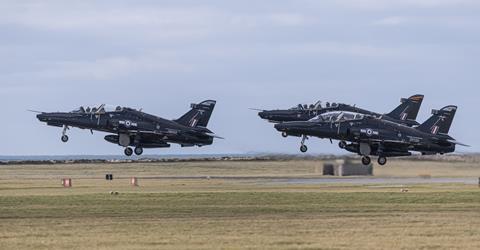 Run by Ascent Flight Training – a joint venture between Babcock and Lockheed Martin – the fast-jet portion of the MFTS syllabus relies on Hawk T2s supplied directly by the RAF.
Low Hawk T2 availability has been a long-running issue for Ascent, but a recently disclosed problem with the Hawk T2's Rolls-Royce/Safran Adour engine will further diminish that capacity, says Lockheed. As of 31 October, the halfway point of the current 2022-2023 financial year, Ascent had been able to use just 1,711h, "generating only two fast-jet trainee graduates".
With the engine issue forecast to persist for the next two to three years, Lockheed says Hawk T2 flights from RAF Valley on Anglesey have been cut to a maximum of 18 per day, against the 53 the Ministry of Defence (MoD) is obliged to provide to Ascent.
It says planning for the next financial year, beginning on 1 April, is based around the throughput of 24 trainees.
"This will not be possible within the heavily restricted Hawk T2 hours and constrained daily flying rates, as a continuing direct result of the Hawk engine issue. Ascent understands the additional UK trainees will be trained overseas as a mitigation for the lack of available Hawk T2 hours."
Data provided by Lockheed shows that Hawk T2 availability was a problem even before the engine issue came to light last year.
Lockheed says the MoD is "obligated to provide up to 9,200 hours of Hawk T2 flying to Ascent" each financial year, to cater for a maximum of 43 students.
However, "historic issues with Hawk T2 availability" have resulted in "significantly reduced hours" over the four previous years, says Lockheed, leading to a "corresponding reduction in trainee capacity".
Data shows an average of 5,545 flying hours across the last four financial years, with an average of 23 fast-jet graduates.
The MoD says: "Due to the Hawk T2 engine issue and the impact aircraft availability will have on flying training over the next three years, alternative fast jet pilot training options are being negotiated to train UK fast jet pilots, however, details are commercial in confidence."
Options previously outlined in the House of Commons to deal with the Hawk T2 shortfall include sending further trainees to the Euro-NATO Joint Jet Pilot Training programme at Sheppard AFB in Texas, the USA; accelerating planning for No 11 Squadron – a joint Qatar/UK unit – at RAF Leeming to train RAF pilots from late 2022 until 2027; and working with other allies and partners to examine whether UK pilots could be trained overseas.

Dominic Perry is deputy editor of Flight International but also contributes extensively to flightglobal.com. Although specialising in the coverage of the helicopter industry, he has written on most topics in aerospace – be they commercial, defence or business aviation. In addition, there has been an increasing focus on the decarbonisation of the industry and zero-emission flight initiatives.
View full Profile