Lockheed Martin has tapped Aerojet Rocketdyne to power a hypersonic anti-ship missile it is developing under a US Navy (USN) contract.
The work will see Aerojet Rocketdyne provide the propulsion for Lockheed's design under the US Navy's Hypersonic Air-Launched Offensive Anti-Surface Warfare Weapon (HALO) programme, says the company. Aerojet Rocketdyne is a unit of L3Harris Technologies.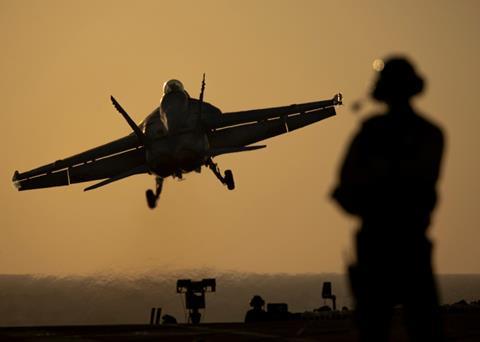 "We are proud to partner with Lockheed Martin on this important capability, supporting the navy in its mission to keep the seas open and free," says Aerojet Rocketdyne president Ross Niebergall.
"By powering weapons that reach farther, faster, we enable warfighters to remain on the offensive, driving the pace of battle and maintaining the advantage."
In March, the US Naval Air Systems Command (NAVAIR) issued contracts worth a total of $116 million to Raytheon Missiles & Defense and Lockheed for the initial development of a high-speed anti-ship missile.
In a July interview with trade publication Naval News, USN Rear Admiral Steve Tedford said that HALO aims to produce a high-speed weapon specifically for the Boeing F/A-18E/F Super Hornet, which operates from USN carriers. As such, the weapon must be compatible with carriers' munitions handling systems, such as weapons elevators. It must also be able to handle the catapult launches and arrested recoveries the aircraft routinely undertakes.
He also suggested that while true Mach 5, hypersonic capability would be useful for the weapon, this is not an absolute requirement.
In March, NAVAIR said that the two companies will provide "technical maturation and development through preliminary design review of the propulsion system required for a carrier suitable hypersonic weapon system".
The award period ends in December 2024 with preliminary design reviews from both companies, pending prototype flight tests.
HALO is seen as a follow-on weapon to the Lockheed AGM-158C Long Range Anti-Ship Missile that is fielded by the Super Hornet and US Air Force Boeing B-1B bomber. It is expected to achieve initial operational capability in the late 2020s.
HALO will need to be capable of performing high-speed strikes against enemy warships in highly contested environments such as the Western Pacific.