Lockheed Martin has revealed its assembly and conversion strategy for the Airbus A330-200-derived LMXT tanker it is offering to the US Air Force (USAF), with the work to be performed in Mobile, Alabama and Marietta, Georgia, respectively.
Detailing the company's production plans on 31 January, Larry Gallogly, Lockheed Martin Aeronautics' LMXT programme director, said the sites had been chosen to minimise risk on the KC-Y programme.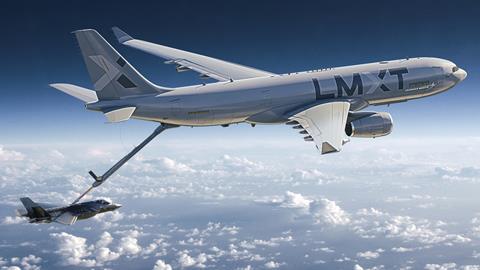 Should the A330-based offering be chosen for the expected 140-160-aircraft requirement, Airbus will transition its A330-200 assembly line from Toulouse, France to Mobile, where new facilities will be built.
"We're really taking advantage of a highly capable, highly experienced workforce in that area," says Gallogly, who also points to the importance of port access at Mobile for the delivery of large aircraft structures.
Lockheed will refurbish its giant L-10 hangar in Marietta – until recently used in support of the USAF's C-5M modernisation programme – to accommodate tanker conversions. This will involve Airbus transferring work on the current A330 multi-role tanker transport (MRTT) programme from its Getafe site near Madrid, Spain for US customer examples.
In all, Lockheed expects the LMXT project to create around 1,300 new jobs at the companies, in addition to having additional US supply chain benefits.
"This is going to be built in America, by Americans, for Americans," Gallogly says of the strategic tanker. Lockheed's production plan involves "a tiny fraction" of the total fleet being completed in Europe during a personnel training process and while US infrastructure work is being completed.
"We have a very efficient transition plan, to slowly move that work to the United States," he adds.
Meanwhile, work is under way to increase the volume of US content on the widebody for its adaptation for USAF use.
"We are trying to source as much of the supply chain in the United States as we possibly can, recognising and respecting that there is a very successful existing supply chain that supports the MRTT right now," Gallogly says.
"We are looking at each and every one [of the suppliers] and seeing where it would make sense if we can resource something in the United States more efficiently," he says. This process also is exploring whether current US suppliers to the A330 could secure additional work.
However, Gallogly stresses: "We don't want to do anything that is going to increase the overall cost of the aircraft or introduce any risk." He confirms that the Airbus-produced fly-by-wire refuelling boom and vision system employed by the in-service A330 MRTT fleet will be retained by the LMXT.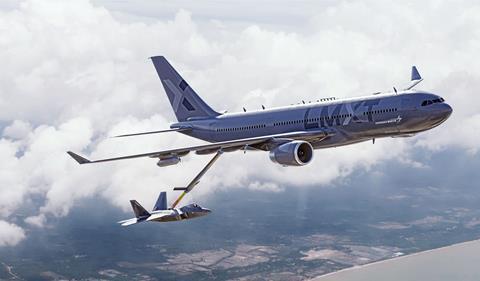 Lockheed anticipates that the USAF will issue a draft request for proposals (RFP) for its KC-Y requirement by the end of this year, with a final RFP release anticipated in March or April 2023. A contract award is expected around late 2024 or early 2025, with deliveries to begin in the 2029-2030 timeframe.
An engine selection for the LMXT has yet to be announced, but Gallogly says that by choosing either current option powering the A330 MRTT – the GE Aviation CF6 or Rolls-Royce Trent 700 – "they will be in the United States".
The LMXT design boasts increased maximum gross weight performance and 12t of additional fuel over the MRTT. Contained within two additional tanks to be installed in the A330's lower cargo lobe, these advances will result in a maximum fuel capacity of 123t.
Boeing – which is in the process of delivering 179 KC-46A Pegasus tanker to the USAF via its KC-X programme – is also pursuing the future requirement to replace more of the service's aged KC-135s.