Deliveries of Germany's Lockheed Martin F-35As could begin in 2026 if political agreements can be signed off promptly as the country continues a rapid acquisition process.
JR McDonald, vice-president of business development for the F-35, said at the ILA Berlin air show on 22 June that discussions are ongoing to determine Berlin's potential delivery profile.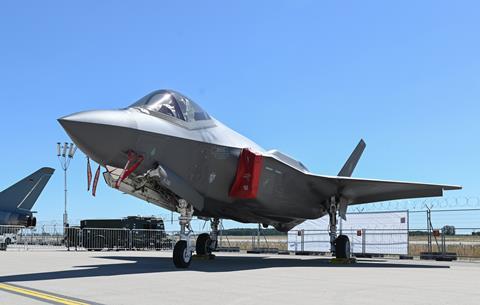 Germany announced on 13 March that it was seeking up to 35 F-35 to replace a portion of its Panavia Tornado fleet, with a letter of request submitted to the US government just four days later.
That was a "very fast tempo" says McDonald, "and we are sprinting now to understand the German requirements", including the rate of deliveries, and weapons and sustainment packages.
Lockheed, the US government and the F-35 Joint Program Office hope to put together a package of options for Germany "by the fall", says McDonald, which can then be ratified by the country's parliament.
McDonald sees deliveries likely to begin in 2026 based on the German need to retire its Tornados by 2030. "But discussions are ongoing about what the profile and timelines look like."
Although shipments could in theory start sooner, McDonald cautions that "we want to deliver a capability, not just a piece of metal".
"We could probably deliver an airplane to Germany in 2025 but we might not have the ability to train German pilots that soon or for infrastructure in Germany that could accept the aircraft at that point."
In addition, negotiations are ongoing regarding German industrial participation in the programme, which Berlin has "made it very clear" is "very important" for the deal to be concluded.
"We are in an exploratory phase of talking to German industry to understand their capabilities," he says. Options could include manufacturing parts or participating in aircraft sustainment.
Lockheed is hopeful of securing additional orders for the F-35 in Europe, with the Czech Republic and Greece both expressing interest in the fighter.
To date, 128 F-35s are operated by European nations, a figure that will expand to at least 530 by 2030, says McDonald.
Recent successes include selections by Finland and Switzerland to replace fleets of elderly Boeing F/A-18 fighters, although Bern still has to have its acquisition ratified by parliament.
Should the deal proceed, then a portion of its fleet will be built at the Final Assembly Check Out (FACO) facility in Cameri, Italy.
McDonald says a recent decision by the US government clears the way for any European nation to have their jets built at the Italian FACO; previously nations had to seek US Department of State approval on a case-by-case basis.
Production of the F-35 is now split between sites in Fort Worth, Cameri and Nagoya in Japan. Annual output sits at around 156 units, with the Italian FACO contributing 12-16 aircraft and the Japanese plant six.