Germany has received the second of two Airbus A321LRs to be operated by its air force, initially for troop or passenger transport missions.
Bearing the military registration 15+11, the CFM International Leap-1A-powered jet has been specially modified by Lufthansa Technik.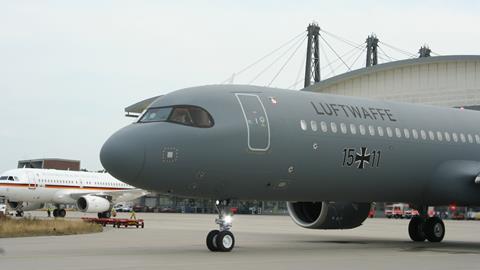 Handed over to the Luftwaffe on 17 August, the twinjet will be flown by the service's executive transport wing from its base at Cologne-Bonn airport.
A sister aircraft (15+10) was received by the air force at a ceremony at the ILA Berlin air show in June.
Currently configured in a 136-seat layout, the two aircraft will over the next 12 months return to Lufthansa Technik for the addition and qualification of a medevac interior.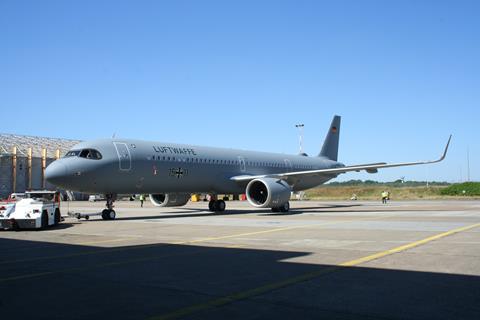 Three different configurations will be available, offering the ability to transport up to six intensive care patients or 12 with less severe injuries.
Preliminary work to enable installation of the medevac interior has already been completed as part of the first phase of the project, says Lufthansa Technik, including configuration of the onboard oxygen system.
The two A321LRs were ordered in July 2020. Lufthansa Technik has modified them under the codename Project Pluto, which is in line with the company's policy of choosing the names of gods or planets for confidential work.