Pilots from multiple Royal Air Force (RAF) squadrons have taken part in what the service describes as the "largest ever mass firing" of MBDA Asraam short-range air-to-air missiles.
During a 10-day activity conducted over the Hebrides air weapons ranges, "pilots from eight different squadrons successfully launched a total of 53 missiles at [Banshee] target drones", the RAF says.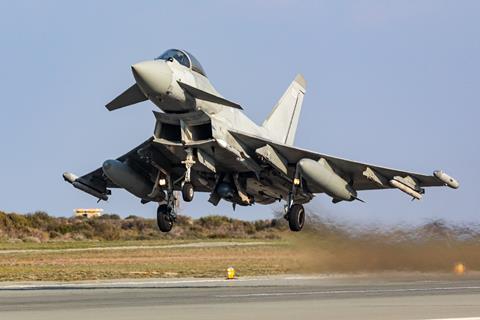 This involved Eurofighter Typhoon FGR4s from numbers 1, 2, 3, 6 and 9 squadrons, plus the RAF's 41 Sqn test and evaluation unit for the type, plus Lightning IIs from its 207 and 617 squadrons.
"The ability to end-to-end test these missiles develops confidence in the weapon, whilst simultaneously developing personnel from professions across the RAF," the service says. "The training has proved the impressive capability of Asraam across both RAF combat air platforms, providing training and real-world feedback."
Asraam serves as the RAF's short-range missile on both platform types, while the Typhoon and F-35B are respectively equipped with MBDA Meteor and Raytheon AIM-120 Amraam beyond-visual-range missiles.