Manila has placed an order for six Indonesian Aerospace NC212i tactical transports, with a pair of previously delivered examples also to undergo heavy maintenance in Bandung.
The order follows a tender award on 10 March, according to Indonesian Aerospace, also known as PTDI.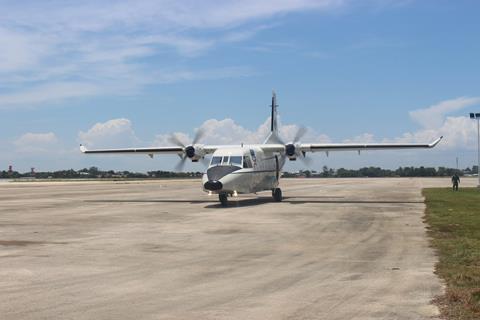 The agreement also includes spare parts and support. Indonesian Aerospace did not provide delivery timings or the value of the contract.
Separately, two Philippine air force NC212is ordered in 2014 and delivered in 2018 will be flown to Indonesian Aerospace's Bandung facilities at the end of April for maintenance work.
"The procurement of the six NC212i units is a continuation of the procurement of the previous two units in 2014," says Indonesian Aerospace commercial head Indar Atmoko.
"This indicates that PTDI's products [have the] quality acceptable to customers to support their mission operations. With this achievement, we are also grateful to be able to participate in enhancing security and defence cooperation in the Southeast Asian region, which is already quite well established between the Indonesian and Philippine ministries of defence."
In April 2013, Airbus Defence & Space (then Airbus Military) entered a deal with Indonesian Aerospace to develop the type, an upgraded version of the C212 tactical transport. The two companies first announced plans for the NC212i in November 2012.