South Africa's first veteran Lockheed Martin C-130 to undergo a key avionics update has arrived in the UK for adaptation by Marshall Aerospace.
The B-model Hercules touched down at the MRO specialist's Cambridge airport site on 11 August. Cirium fleets data shows that the South African Air Force (SAAF) tactical transport, registered 409, entered service with its original operator the US Air Force in October 1959.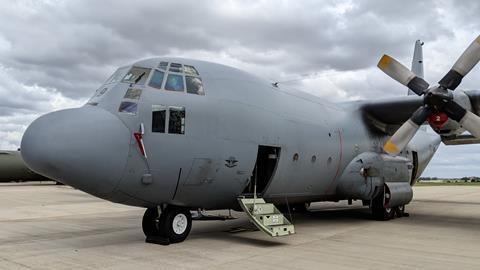 Marshall says it will replace the C-130B's secondary flight display and implement an Automatic Dependent Surveillance Broadcast – Out (ADS-B Out) system installation. It "will also perform depth maintenance, which will involve comprehensive inspections, repairs, and rectification".
"Following testing and verification of these modifications on the first aircraft, Marshall will supply [in-country MRO partner] Denel with service bulletin kits containing all parts, components and instructions needed to perform the same modifications on four additional C-130 aircraft in South Africa," the UK company says. It also will provide personnel training for SAAF technicians under the arrangement.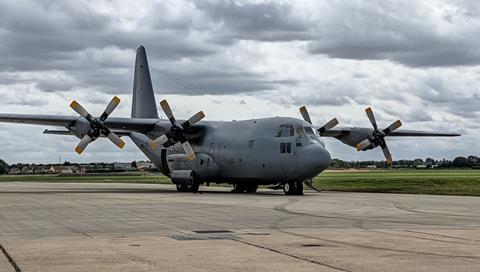 "We are delighted to have been asked to support the SAAF and Denel with our unique technical capability and platform knowhow in order to extend the lifespan of these aircraft," says Marshall Aerospace managing director Neil McManus.
Cirium shows that the SAAF has an active inventory of five C-130s, with its other four B-model examples each aged at 60 years.

Craig Hoyle joined Flight International in 2003, and has edited the now monthly title since 2015. He has reported on the UK, European and international military aviation sector for more than 25 years, and produces our annual World Air Forces directory.
View full Profile