UK military MRO specialist Marshall Aerospace has held a ground-breaking ceremony for its new US facility in Greensboro, North Carolina.
The Cambridge-based company, which announced its stateside move earlier this year, plans to open its single six-bay hangar with an additional paint bay in 2025.
Marshall says it is tapping into the world's biggest market for the Lockheed Martin C-130, which it has specialised in since the 1960s when it began supporting the type for the UK Royal Air Force.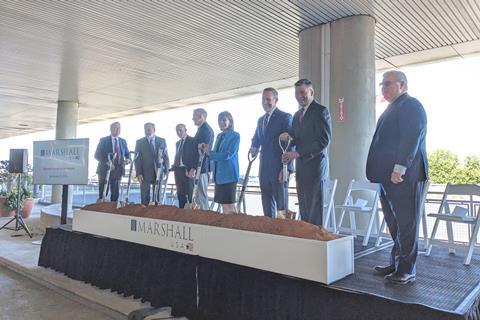 The event, at Piedmont Triad International airport on 15 September, was attended by local politicians, military leaders and industry partners.
Ken Loy, the new president of Marshall USA, says the investment marks "the start of an exciting chapter in Marshall's history".
He adds: "As the ever-popular C-130 continues to prove itself as a dependable tactical airlift and aerial refuelling platform which operates around the world, we are excited to be bringing our decades of experience directly to the US military services."
The company also plans to open a base in Canada, selecting in May Abbotsford, British Columbia as its preferred location.
Marshall says one of the attractions of Piedmont Triad is its "well-established aerospace ecosystem". Honda Aircraft has its factory and headquarters there, and supersonic airliner developer Boom is building its final assembly line and test centre. MRO company HAECO and training provider FlightSafety International also have facilities at the airport.
Marshall Aerospace will relocate its UK headquarters from Cambridge – its home for more than 100 years – to a site next to Cranfield University by the end of the decade.
Cambridge airport, where the company is based and which the firm owns, is considered prime development land. Marshall Group, which also owns other businesses including in defence land systems and commercial vehicle support, says it will continue to "maintain a strong presence" in the university city. It divested its car dealerships last year.