MRO specialist Marshall Aerospace & Defence Group has returned the US Marine Corps' (USMC's) first Lockheed Martin KC-130J tanker/transport to have undergone depot-level maintenance at its Cambridge airport site in the UK.
In 2020, Marshall received a 10-year Multiple Award Contract in support of the USMC's 66-strong KC-130J fleet. The framework deal enables it to bid on scheduled maintenance work in competition with the USA's Cascade Aerospace, with around 10-12 of the aircraft scheduled to be supported per year.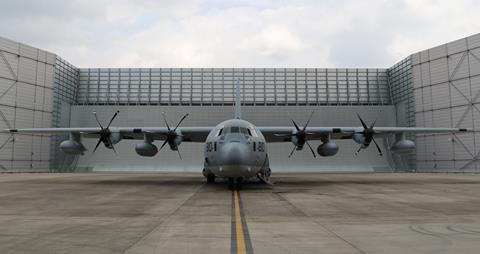 Registered 165810, the lead aircraft to undergo the process in the UK had arrived at Marshall's facilities last December. Following the completion of work, the Marine Aerial Refueler Transport Squadron 252 (VMGR-252) asset returned to its home base at MCAS Cherry Point, North Carolina. Cirium fleets data shows that the tanker entered USMC service in December 2001.
"We are delighted to be returning the aircraft to the squadron having completed an extensive amount of work identified as part of the planned maintenance interval to ensure that it can continue to complete its important work for the US Marine Corps," says Marshall Military Aerospace managing director Duncan Eldridge.
"The team has particularly enjoyed the opportunity to work alongside and learn from the teams from the US government," he adds.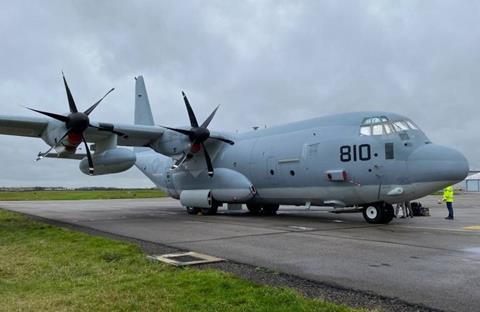 "The professionally serviced KC-130J now meets or exceeds all of the requirements to be a safe, mission-ready aircraft," says Lieutenant Colonel Kevin Ryan, commanding officer the USMC's Fleet Readiness Center Western Pacific.
"Marshall's performance on this first aircraft gives me the confidence that we will be able to continue to meet the US military's needs for C-130 maintenance and positively impact readiness and sustainment goals," he adds.