MARSS has launched a scaled-down version of its counter-unmanned air system (CUAS) interceptor, and is also pitching an updated version of its original, larger design to meet potential UK requirements.
"This new portable solution can be used on the battlefield to neutralise Category 1 drones at 1km-plus, giving mounted and dismounted infantry the confidence of knowing they are always protected," the UK company says.
Dubbed the Interceptor-SR (short range) and unveiled at the DSEI show in London, the lightweight design shares its larger sibling's configuration and unarmed, hit-to-kill concept of operations.
Multiple Interceptor-SRs can be integrated for launch from a ground vehicle, with their deployment conducted in combination with MARSS' own NiDAR command and control suite.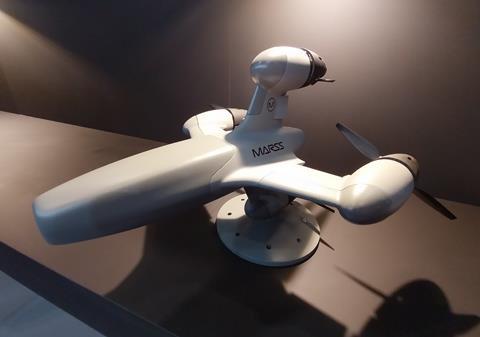 Alternatively, the system can be deployed by a soldier using a shoulder launcher equipped with a thermal sight for targeting.
Following its launch, the interceptor uses a thermal sensor to autonomously track its target, before neutralising it by using the kinetic energy of an approach speed of 80m/s.
"The speed and contact with the drone should cause enough damage to effectively take the [hostile] drone out," Andy Forbes, managing director of MARSS Middle East, tells FlightGlobal.
"We developed the Interceptor-SR in direct response to customer demand," says Stephen Scott, the company's head of research and development for defence.
Following its launch of the original Interceptor product at the World Defense Show in Saudi Arabia last year, "many customers commented on the need for a portable CUAS solution to defeat category 1 threats at shorter ranges", Scott notes.
The -SR model is "half the size" of the larger Interceptor-MR (Medium Range), "but offers many of the same features", MARSS says.
Meanwhile, the company says its 5km-range Interceptor-MR has been "extensively refined" since it unveiled the product as a 10kg (22lb) design. "The latest model is now lighter and more aerodynamic, boasting a smaller body than earlier iterations," it says. It also now employs an electro-magnetic catapult for launch.
Extensive testing has demonstrated the model's "power to defeat fast, high-manoeuvring targets head on", it adds.
"We have surpassed our initial ambitions, delivering a game-changing system for the CUAS market," Scott says. "We will shortly be demonstrating this mature system with potential customers, and obtaining the relevant accreditation to be able to deliver to customers next year."
The company notes that as its designs do not use a warhead, so are also suitable for civil protection duties.

Craig Hoyle joined Flight International in 2003, and has edited the now monthly title since 2015. He has reported on the UK, European and international military aviation sector for more than 25 years, and produces our annual World Air Forces directory.
View full Profile