MBDA UK, MBDA Italia and Japan's Mitsubishi Electric have entered a pact for weapons integration on the Global Combat Air Programme (GCAP) between Italy, Japan and the UK.
The agreement will see the trio work to together on an "effects domain", which will "ensure the seamless integration of weapons for the GCAP platform", says MBDA.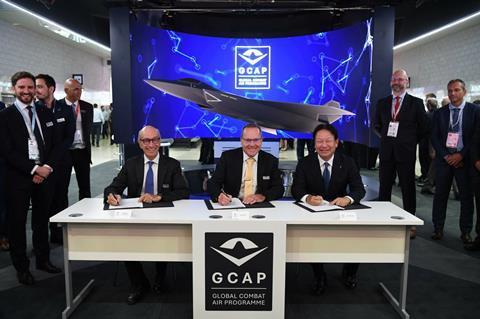 The three partners will also work on technologies related to weapon effectiveness.
"The collaboration agreement is focused on aligning national approaches to effector integration of the GCAP partners," says MBDA. "It does not include the joint development of effectors."
At the Paris air show in June, MBDA highlighted air-launched weapons that could complement future European sixth-generation fighters.
The concept envisages weapons and other remote systems collaborating together to gather information, share it, and strike targets.
The effectors agreement, signed at the DSEI show in London, follows the 12 September announcement of an initiative between ELT Group and Leonardo Electronics Italy, Japan's Mitsubishi Electric, and Leonardo UK to deliver the so-called ISANKE & ICS suite for a future manned fighter to enter use from 2035. This will integrate the aircraft's radar, sensor and electronic warfare equipment, and communications technology.
This followed a broader collaberation agreement signed between the main industry partners for GCAP: BAE Systems (UK), Mistubishi Heavy Industries (Japan), and Leonardo, focused on the next stage of collaboration for the programme.