MBDA expects to later this year advance to its next phase an Anglo-French project to develop a replacement for its Storm Shadow/SCALP-EG cruise missile, says chief executive Eric Beranger.
"We are expecting to sign to continue on the future cruise and anti-ship weapon [FCASW] programme between the UK and France," Beranger says. "We are now closing the concept phase and are intending to start the assessment/risk-reduction phase this summer."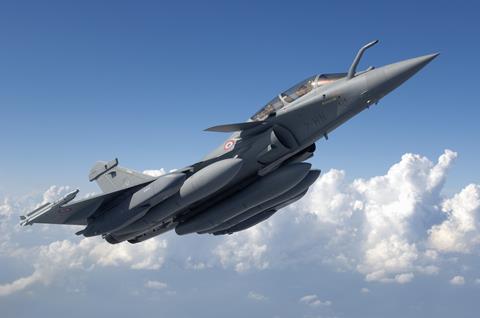 In addition to delivering a successor for the Storm Shadow/SCALP-EG currently employed by the nations' Eurofighter Typhoons and Dassault Rafales, the FCASW effort also aims to replace their Boeing AGM-84 Harpoon and MBDA AM39 Exocet anti-ship weapons.
Speaking during an annual results briefing on 31 March, Beranger declined to reveal the likely configuration of an FCASW product, or whether the nations are interested in supersonic performance.
"We are in regular discussion with our customers, and there is a convergence today on the various concepts," he says. "This is something that we are working very hard on indeed."
MBDA reported revenues of €3.6 billion ($4.2 billion) for 2020, with its order intake totalling €3.3 billion – split 50:50 between its domestic markets and international customers. The company ended the year with a backlog worth €16.6 billion.
"We were impacted, especially at export," Beranger says of the year, which saw operations affected by the global Covid-19 pandemic. "We had a slight drop in our order intake, but the activity remains extremely high."
MBDA's financial performance in 2019 saw revenue of €3.7 billion, orders at €3.4 billion, and a backlog worth €17.5 billion.
Beranger notes that the company has had a strong start to 2021, with deals secured to supply a weapons package as part of a Greek air force Rafale buy, and to produce a second batch of Mica NG air-to-air missiles for the French air force.
Confirmed in early March, the latter deal covers the production of 367 weapons, to be delivered between 2028 and 2031. Deliveries of the weapon will commence in 2026, under a previous 200-unit order.
"Currently under development, the Mica NG will renew the medium-range interception, close combat and self-protection capability" of Rafales operated by the French air force and navy, says the nation's DGA defence procurement agency.