The UK Ministry of Defence (MoD) has given MBDA additional funding to perform a rapid design phase activity on its Spear-EW stand-in jammer.
Announcing the development on 12 September, the European guided weapons specialist noted: "The additional funding will accelerate Spear-EW's development, maturing all its key sub-systems, and perform mission and planning evaluation."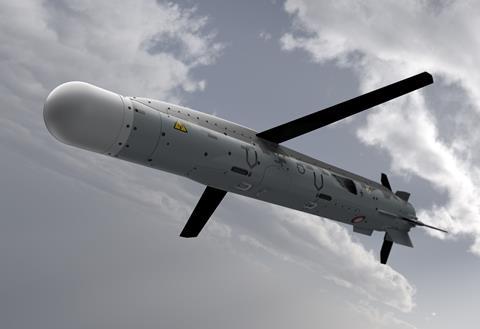 An electronic warfare-optimised development of the Spear miniature cruise missile, the new variant will be fielded by the UK Royal Air Force, enabling the service to jam hostile radar systems and create decoy targets in a bid to protect crewed aircraft.
"Spear-EW will be a true game-changer for the suppression and defeat of enemy air defences," says MBDA UK managing director Chris Allam. Noting that contemporary air defence networks "are exceptionally hard to operate against" with current systems, he adds: "Spear-EW is the key that will enable allied air forces to unlock this challenge and gain air superiority."
Leonardo UK is developing the core digital radio frequency memory technology at the heart of the Spear-EW capability.
"Our technology can reliably beat current threats while remaining adaptable for the threats of the future," says Iain Bancroft, the company's senior vice-president electronic warfare, who points to its previous experience on the Eurofighter Typhoon and in developing the BriteCloud expendable active decoy.
"We are steadfastly dedicated to ensuring that our front line commands receive critical capabilities in the most effective and efficient manner possible," says Dean Pask, the MoD's Spear senior responsible owner.
The MoD has not revealed its expected service introduction target for the Spear-EW system, with the Typhoon and Lockheed Martin F-35B scheduled to field the type.

Craig Hoyle joined Flight International in 2003, and has edited the now monthly title since 2015. He has reported on the UK, European and international military aviation sector for more than 25 years, and produces our annual World Air Forces directory.
View full Profile