MBDA will use the Paris air show to update its progress on designing a new class of so-called collaborative effectors: intelligent air-launched weapons which are expected to complement future European sixth-generation fighters.
Military visitors will be invited "to immerse themselves in a unique simulated raid using network-enabled effectors, linked to each other, reacting live to the developments of a tactical situation", the guided weapons specialist says. This will include demonstrating features such as "pop-up threat avoidance, collaborative targeting and automatic target reallocation".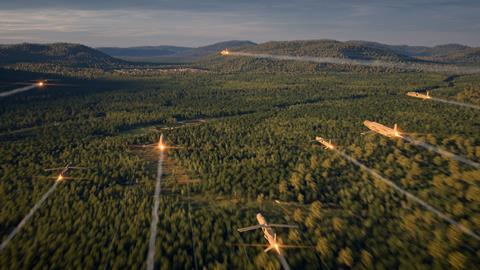 Also described as a pack operation, the conceptual mission involves glide and powered missiles and expendable remote carriers "sharing information about the battlespace as they approach targets, coordinating their actions".
Such tactics will be "key to overcoming enemy air defences, enhancing survivability of effectors and increasing efficiency on targets", MBDA argues.
Dubbed Orchestrike, the capability relies on technologies including "connectivity, software architecture and algorithms, including artificial intelligence with a human in the loop", MBDA says.
Collaborative effectors and remote carriers will be valuable adjuncts for the Future Combat Air System (FCAS) and Next Generation Fighter being developed by France, Germany and Spain, and also the Italian/Japanese/UK Global Combat Air Programme (GCAP) and Tempest fighter.
Speaking last month, MBDA UK managing director Chris Allam told FlightGlobal that the European company is well positioned to support both the FCAS and GCAP efforts.
"We can have national programmes, as well as international ones at the same time – we are structured and expert at doing that with no issues," he notes. "But our strategic desire would be that those air dominance programmes are more common – at least when we get to the weapons domain.
"Our ideal objective is to maintain what is actually currently a very common set of weapons," Allam says. "We can hold a common weapons layer, even if it's in two programmes."
As an example, MBDA last year launched the assessment phase of the Anglo-France Future Cruise/Anti-Ship Weapon (FCASW) programme. It is currently advancing work on two concepts: a stealthy, subsonic successor for the Storm Shadow/SCALP EG cruise missile; and a supersonic weapon which will employ "high speed as a mode of defeat". Both designs are in the roughly 1t weight category.
The FCASW programme will move into its development phase in 2025, with service entry scheduled before the end of this decade.

Craig Hoyle joined Flight International in 2003, and has edited the now monthly title since 2015. He has reported on the UK, European and international military aviation sector for more than 25 years, and produces our annual World Air Forces directory.
View full Profile