UK start-up Aeralis has secured a major funding boost from an undisclosed Middle East backer, plus new technical support from propulsion giant Rolls-Royce, moving its modular jet trainer concept a step closer to manufacturing reality.
Under an agreement signed on 16 September, as Aeralis promoted its UK-designed product at the DSEI show in London, the £10.5 million ($14.5 million) financial injection comes from "a Middle Eastern sovereign wealth fund", the company says.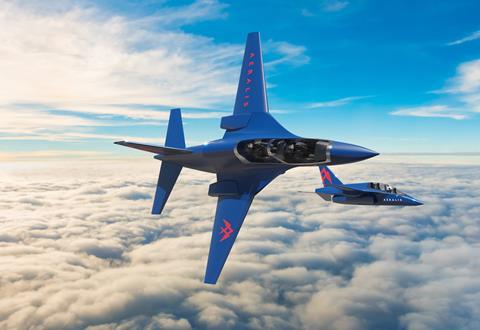 Describing the stated commitment as an "initial" investment by the unnamed party, Aeralis says the funds "will support the design, development and first flight of the advanced jet trainer".
Aeralis chief executive Tristan Crawford calls the funding support a "transformational moment" for the project, and says the company will "revolutionise the defence aviation sector with an aircraft system that will deliver substantial through-life cost savings".
Also during the show, Aeralis and R-R announced a memorandum of understanding (MoU) under which the engine manufacturer will "meet the company's propulsion requirements".
"The MoU activity will focus initially on using Rolls-Royce's propulsion systems powering the pre-production aircraft, and the ability to integrate them digitally in the aircraft design process," Aeralis says.
"Given the Aeralis aircraft can be reconfigured with different single- and twin-engine modules, the MoU will also go on to explore how Rolls-Royce's future propulsion system technology can be utilised across multiple Aeralis-variant aircraft to meet different operational requirements," it adds.
"We are delighted to announce our collaboration with such a highly capable and respected partner in the industry. The fully integrated digital infrastructure that we will build alongside our aircraft is the first of its kind and we could not think of a better partner to be doing it with," Crawford says.
"We are looking forward to progressing this innovative programme with Aeralis to help them meet their power and propulsion needs," says Alex Zino, R-R's executive vice-president business development and future programmes. "We are committed to developing disruptive and cutting-edge technologies that will help advance this programme."
Aeralis notes that its new pact with R-R builds on previous agreements reached with Atkins, Siemens and Thales UK.
It also "continues to be in discussion with the UK Ministry of Defence and leaders from across the defence industry to explore further options for supporting this ground-breaking technology". The company has already secured some funding from the Royal Air Force's Rapid Capabilities Office to support its activities.