A repeat Eurofighter buy represents Spain's best option for replacing an aged fleet of Canary Islands-based Boeing F-18 fighters, Airbus has claimed, after Lockheed Martin recently cited interest in its F-35 from Madrid.
"The F-35 is an available aircraft, but for Spanish industry and for the Spanish customer, the Eurofighter is the right choice," claims Kurt Rossner, Airbus Defence & Space's head of combat aircraft systems.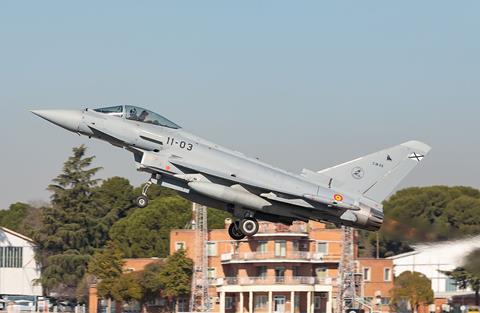 "For Spain, we are prepared to deliver aircraft as fast as possible" to meet the Halcon programme requirement, he adds. The nation's air force already has 68 examples in active use, Cirium fleets data shows.
While Airbus believes it is best placed to deliver, Rossner notes of the reported F-35 interest: "It would be a surprise if Spain would not have not discussed it."
Madrid's potential interest in the stealth fighter could also stem from a need to seek a replacement for its navy's aircraft carrier-based Boeing AV-8B Harrier II strike aircraft. Cirium records it as having 13 of the type in use, with these aged between 24 and 34 years.
Airbus Defence & Space head of military aircraft Jean-Brice Dumont says the company believes a market exists to produce more than another 350 Eurofighters, with the type expected to be in operational use until 2060.
Built by a four-nation industrial consortium also involving BAE Systems and Leonardo, the Eurofighter has so far attracted orders for 661 aircraft, 571 of which have been delivered. Current orders cover 38 Project Quadriga jets for the German air force, plus a combined 52 for export customers Kuwait and Qatar.
In addition to the hoped-for repeat Spanish order, the Eurofighter partners are waiting on the outcome of a competition in Finland, expected to be for 64 aircraft. Further opportunities exist in nations including India, which has an air force need for 110 advanced multi-role fighters.
Meanwhile, Rossner says Airbus and its partner suppliers have demonstrated a manned-unmanned teaming capability with a Eurofighter for the German air force.
Conducted during the Timber Express exercise earlier this year, the activity included a collaborative electronic support measures trial, during which the combat aircraft tasked and then received data from two target drones operating as representative remote carrier vehicles.
"We could demonstrate sensor fusion and data exchange in real-time," Rossner says. "This is unique in Europe," he claims, adding: "This is a step into the system of systems world."
Such a combination is envisaged as providing part of the Future Combat Air System (FCAS) being developed by France, Germany and Spain for service introduction from around 2035.
Multiple key technologies for a future FCAS capability will first be incorporated with the Eurofighter, both to de-risk the in-development system and maintain the current model's operational relevance, Airbus says.