A pooled fleet of Airbus Defence & Space A330 multi-role tanker transports (MRTTs) operated by a group of six NATO nations will grow to 10 aircraft by late 2026, reflecting increased demand among its members.
"This announcement follows Belgium's decision to increase its number of hours in the programme with an additional 1,100 flight hours per year," Airbus says. The nation – which will now use 2,100h on the fleet annually – is a partner in the NATO Multinational MRTT Fleet (MMF) initiative alongside the Czech Republic, Germany, Luxembourg, the Netherlands and Norway.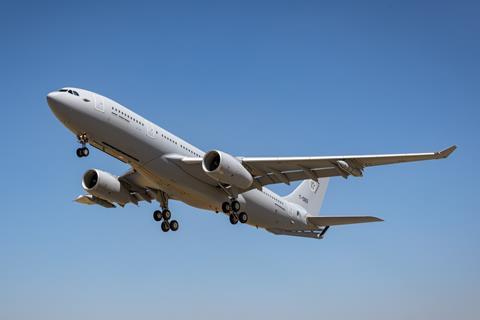 Confirmation of the follow-on contract – placed via the NATO Support and Procurement Agency (NSPA) – came just days after the MMF on 23 March declared initial operational capability with the tanker/transport, seven of which are in use.
The NSPA describes the milestone as meaning that the unit its able to "perform all types of missions to meet the full range of national and NATO requirements".
"With this new order, [the] NSPA has already acquired one out of four optional MRTTs requested beyond the nine aircraft contracted earlier, demonstrating the level of customer satisfaction," says Jean Brice Dumont, head of Military Air Systems at Airbus Defence & Space.
NATO operations with the adapted A330s commenced in 2020, with the fleet capable of performing in-flight refuelling, personnel and equipment transport and medical evacuation tasks.
The MMF fleet is home based at Eindhoven in the Netherlands, with the Multinational Multirole Tanker Transport Unit also using a forward operating base in Cologne, Germany.
Airbus will deliver the pooled organisation's next two A330s in 2024, when the MMF is due to achieve full operational capability, while its newly ordered example will follow "at the end of 2026".

Craig Hoyle joined Flight International in 2003, and has edited the now monthly title since 2015. He has reported on the UK, European and international military aviation sector for more than 25 years, and produces our annual World Air Forces directory.
View full Profile