Embraer has secured a third European NATO customer nation for its C-390 tactical transport, with the Netherlands to acquire five as replacements for its aged Lockheed Martin C-130Hs.
Announced by secretary of state for defence Christophe van der Maat on 16 June, the selection will lead to deliveries of the twinjet type later this decade.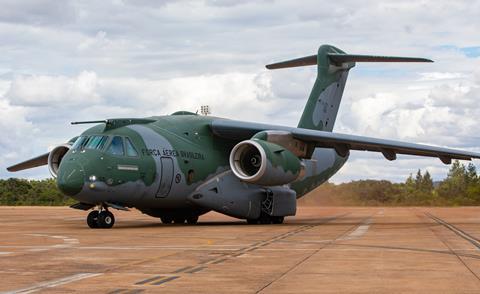 "The intention is that the first new transport aircraft will arrive in the Netherlands in 2026," the nation's defence ministry says.
A C-130 replacement process was launched in 2020, after an earlier plan to continue operating the aircraft until 2031 was abandoned. The Royal Netherlands Air Force's current Hercules "have reached the end of their lifespan", the defence ministry says, adding: "they are less and less often deployable due to defects".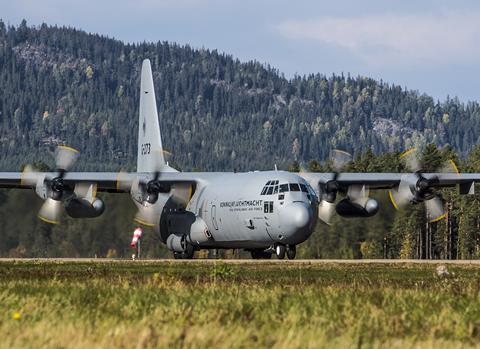 Cirium fleets data shows that the in-service assets are aged between 27 and 44 years.
Van der Maat says a decision also has been taken to increase the minimum hours flown annually by the Dutch tactical transport fleet from 2,400h to 4,000h. This was influenced by the coalition evacuation of personnel from Kabul, Afghanistan in 2021 and instability in eastern Europe following Russia's late February invasion of Ukraine.
These events "have underlined the importance of guaranteed availability of transport capacity for the armed forces", Van der Maat says.
Meanwhile, the defence ministry says that during research conducted in support its evaluation, "The C-390M came out better than Lockheed Martin's C-130J, which was seen as an alternative. The availability of the C-390M is higher, it scores better on a number of operational and technical requirements and it requires less maintenance."
According to its evaluation, four C-390s would be able to meet the previous 2,400 flight hours requirement, versus five C-130Js. However, with the increased operational need, a fifth C-390 will be acquired.
In addition to meeting national requirements, the defence ministry says "The intention is that the C-390M also will participate in the European Air Transport Command"; a partnership involving seven European countries. "Adding the C-390M will benefit the pooling and sharing of capacities in a European context," it adds.
The Netherlands values its C-390 acquisition programme as likely to cost €1-2.5 billion ($1-2.6 billion).
Its selection builds on earlier export contracts for the Brazilian-built type with NATO members Hungary and Portugal, which will receive two and five examples, respectively.
Brazil was launch customer for the transport/tanker, and has so far received five of its 22 on-order aircraft.
The Netherlands' C-390s will not be required to perform in-flight refuelling tasks, as it is a member of the Airbus Defence & Space A330-equipped NATO Multinational MRTT [multi-role tanker transport] Fleet organisation, which operates from its Eindhoven air base.