Airbus Defence & Space has hailed the performance of its A400M Atlas and A330 multi-role tanker transport (MRTT) with customer air forces during the major airlift which rescued coalition nationals and Afghan civilians from Kabul last month.
Some 25 A400Ms and nine MRTTs flew a combined 120 missions amid the mass evacuation activity, which drew to a close in late August.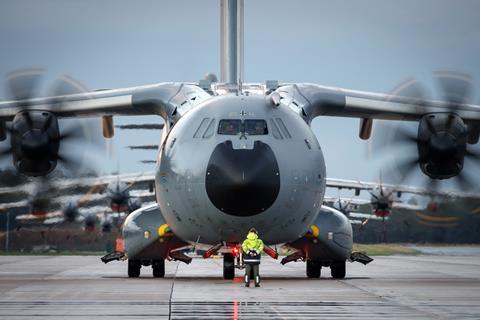 Describing the flights as "operationally demanding", Jean-Brice Dumont, the company's head of military aircraft, notes that the sorties were flown "without a technical event". Only one planned departure was disrupted, when an A400M crew rejected their take-off run due to civilians encroaching on the runway at Hamid Karzai International airport.
"These missions could not have been done with the predecessor/competitor," he notes of the Atlas flights, without naming the rival Lockheed Martin C-130 directly.
Dumont says that while well-documented availability issues which have affected Atlas operators since the type's entry to service in 2013 "are not behind us, we are on top of them. It's more now a question of planning with the users" to ensure that aircraft modifications are performed in the least disruptive way, he adds.
Kazakhstan's recent contract to acquire two A400Ms represents "a turning point for the programme", according to Dumont, who says: "We know that others are interested… some not being far from conclusion." He also believes that the company's new Atlas export customer could in time acquire additional examples, along with more C295 medium transports to boost its currently nine-strong fleet.
Meanwhile, Airbus has within the last week handed over its fifth examples of the A330 tanker each to the French air force and the NATO Multinational MRTT Fleet (MMF). The transfers mean that it has now delivered 50 of the adapted widebodies to military customers for air-to-air refuelling and airlift tasks.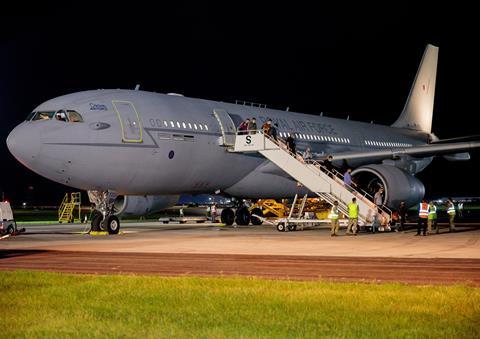 Dumont – who was previously executive vice-president of engineering for Airbus's commercial business – confirms that the company's preference is to continue production of the A330-200 as the basis for its MRTT offering. In addition to on-order examples for France and the NATO MMF group, the company also has been selected for the Royal Canadian Air Force's future tanker requirement.
Some MRTT modifications are likely to involve secondhand aircraft, however, with Spain expected to finalise a deal before year-end to convert three examples formerly operated by Iberia.
"The majority of the [potential] customers that we are discussing with are more inclined towards new aircraft," Dumont says, adding that a minimum rate of around two MRTT conversions per year can be sustained.
Separately, Airbus is teamed with local prime Lockheed in pursuit of the US Air Force's KC-Y tanker requirement, a request for information about which was released earlier this year.
"We are engaged in a partnership that is stronger than ever, and we believe our aircraft has demonstrated its superior capabilities on the market overall," Dumont says.