The naval variant of the Dassault Rafale fighter has secured its first export win, with New Delhi clearing the acquisition of 26 examples for the country's navy.
India's acquisition of the Rafale M was cleared by a meeting of the country's Defence Acquisition Council (DAC) on 13 July, according to its Ministry of Defence.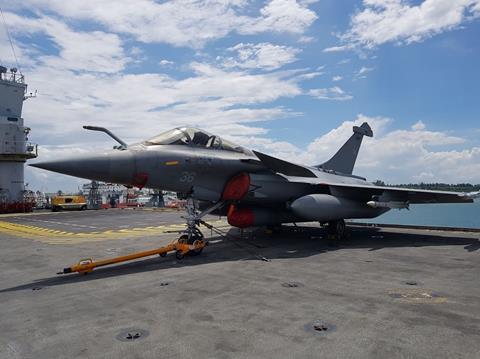 The package also includes ancillary equipment, weapons, simulators, spare parts, training, documentation, and other elements.
"The price and other terms of purchase will be negotiated with the French government after taking into account all relevant aspects, including comparative procurement price of similar aircraft by other countries," says the defence ministry.
In addition, India will incorporate indigenous equipment into the fighters. A maintenance, repair and overhaul hub will be set up locally.
The DAC also approved the acquisition of three French-built Scorpene submarines.
The council's announcement coincides with a state visit by Indian Prime Minister Narendra Modi to France.
The announcement sees the Rafale M defeat the Boeing F/A-18E/F Super Hornet Block III, which was also offered for the requirement.
The Indian Navy operates two carriers, INS Vikrant and INS Vikramaditya. The vessels operate the RAC MiG-29K, as well as helicopters.
The Indian air force already operates 36 Rafales, which Dassault says are "giving full satisfaction" to the service.
"As we celebrate the 70th anniversary of our partnership with the Indian forces, I would like to thank the Indian authorities for this new mark of confidence and pledge, on behalf of Dassault Aviation, that we will fully meet the Indian Navy's expectations with the Rafale," says chief executive Eric Trappier.
Story updated to add Dassault chief executive comment.