Eurofighter's new chief executive says opportunities exist to close multiple new Typhoon sales by the middle of this decade.
"There are really promising opportunities in front of us, both for additional aircraft for our core nations [Germany, Italy, Spain and the UK], but also on the export front," Giancarlo Mezzanatto says. These include planned follow-on purchases by Germany and Spain, plus export opportunities with nations including Poland, Saudi Arabia and Turkey.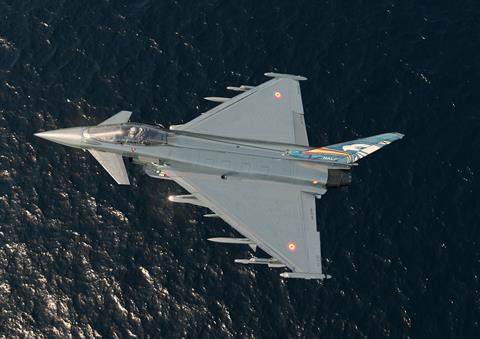 "I see 150 to 200 aircraft as opportunities over the next two years in terms of new orders," Mezzanatto says. "What we are doing as Eurofighter is getting prepared, to fully support our partner companies on the export market in order to meet these demands," he adds. "We are thinking about how we can sustain the production rate."
Saudi Arabia has long held an interest in acquiring a second batch of 72 Typhoons, but a deal has not progressed so far due to export restrictions imposed by the German government.
Mezzanatto says a three-year spares and repair contract for Riyadh's current Typhoons was signed in late 2022, and that "the political scenario has changed quite dramatically" under the new German administration of chancellor Olaf Scholz. "Now Germany is much more engaged than it was before," he says, adding: "I am quite optimistic."
Meanwhile, the updated P4E standard required to deliver Germany's replacement for the Panavia Tornado ECR electronic combat and reconnaissance platform is currently being defined, with the expectation of initial operational capability being delivered during 2028-2029.
"With this [configuration] we will show how flexible the Eurofighter system is," he says, with 15 aircraft to gain new systems including Saab's Arexis electronic warfare suite, via a preferred bidder selection announced by Berlin on 16 June.
Noting that the Eurofighter entered service in 2003 and is expected to remain in frontline use until 2060, Mezzanatto says: "If you are at one-third of your life, you are still very young."
Eurofighter partner companies Airbus Defence & Space, BAE Systems and Leonardo have so far delivered 589 of the aircraft to nine nations, against a current total order book for 680.
Having been engaged in the Eurofighter programme for more than a decade, Mezzanatto was previously closely involved in Leonardo's sale of Typhoons to Kuwait.
He says a 10-year plan for the programme was endorsed by the defence ministers of its partner nations in March, and that "there is a very good understanding between the core nations and ourselves where we are, and what long-term evolutions of the aircraft will look like."

Craig Hoyle joined Flight International in 2003, and has edited the now monthly title since 2015. He has reported on the UK, European and international military aviation sector for more than 25 years, and produces our annual World Air Forces directory.
View full Profile