Germany's Hensoldt has developed and trialled a 'Kalaetron Attack' electronic warfare system, which the company says "jams even the latest Russian [air defence] radars".
Announcing the development on 26 April, Hensoldt says the pod-based product – which is intended for future use by the German air force's Eurofighter combat aircraft – is the result of "combining artificial intelligence, digitisation and active electronically scanned array technologies".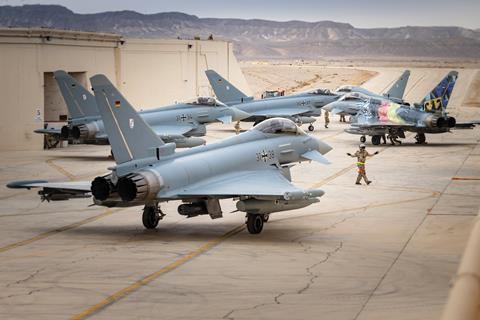 "Kalaetron Attack has recently proven its effectiveness in current threat scenarios in extensive ground tests," Hensoldt says. "The next development step, planned for summer 2022, is to install it in an aircraft in order to confirm the already outstanding laboratory results in realistic flight tests."
"By combining the latest technologies, we have managed to optimise the interference performance in a targeted manner," says Celia Pelaz, the head of Hensoldt's spectrum dominance division. "We are bundling these capabilities in order to develop – if necessary in co-operation with other companies – a solution under national sovereignty.
"This makes Kalaetron Attack scalable at any time for deployments as a self-protection system or the roles of an escort and stand-off jammer," Pelaz adds.
Hensoldt details key technologies as including "a fully digitised, broadband sensor and effector; an electronically controllable jammer; and a condensed structure of the electronic components only made possible by metallic 3D printing".
Berlin earlier this year announced its intention to acquire an additional batch of Eurofighters as future replacements for the Luftwaffe's Panavia Tornado electronic combat and reconnaissance fleet.