Maintaining the early strong momentum of the UK's Tempest future combat air system (FCAS) programme will require the adoption of a joint venture culture and the ability to smoothly introduce further partner nations, industry and military officials say.
Michael Christie, director of FCAS at BAE Systems Air, says the activity – which also involves the defence ministries and industry champions of Italy and Sweden – will advance as "a single programme at multiple sites", instead of replicating the duplicated structure of previous multinational ventures.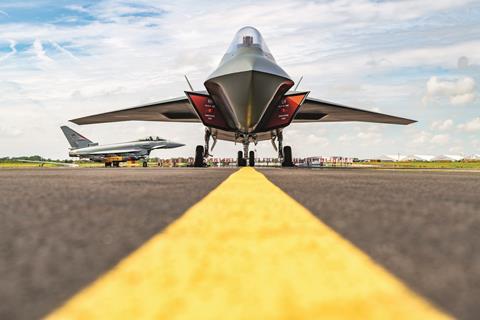 "We're going to create a new culture, not battle for who is best," Christie says. This will be achieved by establishing a joint venture model, where each of the parties involved will contribute its "best capabilities".
Launched in 2018, the UK-led FCAS project aims to introduce a sixth-generation Tempest fighter to Royal Air Force (RAF) service from 2035, along with supporting elements such as an unmanned loyal wingman platform, precision-guided weapons and an underpinning combat cloud network. Work is progressing within a recently-launched concept and assessment phase, with a new programme office structure also having been introduced.
"We have to transform in every way within our enterprise," Air Commodore Jonny Moreton, the RAF's director future combat air, said during a panel discussion at the DSEI exhibition in London on 15 September. "We share the challenge and the issues across government and industry, but we will also share the successes."
Pointing to the aggressive schedule of the FCAS venture, he notes: "We need to maintain pace with our adversaries – we struggle to do that at the moment."
"We already have the mindset for an international activity," says Guglielmo Maviglia, Leonardo's senior vice-president, Tempest programme, highlighting its UK unit's large industrial presence and status as a Team Tempest partner alongside BAE, Rolls-Royce and MBDA's UK arm.
By moving away from previous workshare-based programme arrangements, Maviglia believes that "The value can not only be the sum of what each nation can bring at the industrial level."
Peter Nilsson, head of future programmes at Saab UK, points to the company's collaborative experience while working on the US Air Force's new Red Hawk jet trainer programme. "We didn't bring a Saab culture and a Boeing culture – we set up a T-7 culture," he says. "These types of relationship can't work if you don't bring the heart – why not show the best cards, and build something greater?"
"We are focused within our programme and our partnership on freedom of action, freedom of modification and sovereign control," says Moreton. "Now we need to understand how to deliver to cost, time and capability."
Moreton confirms that former US Air Force aircraft development and acquisition chief Will Roper has been engaged by Team Tempest, "to ask challenging questions of us". He notes: "From a lessons learned perspective, he has a significant amount of experience."
The next major milestone on the programme will come as the current phase concludes, at which point a clearer indication of the proposed FCAS capability mix will be outlined.
"In late 2024 we will go to our governments and say 'This is what we can deliver: this is the capability'," Moreton says.
The UK government's advanced fighter technology relationship with Japan could also open further opportunities to expand the current three-nation FCAS framework.
"Team Tempest must be open to future partnerships, so everyone feels that they're getting significant value," Christie says.