The Royal New Zealand Air Force (RNZAF) will retire its Lockheed P-3K2 Orion maritime patrol aircraft in January 2023, five months earlier than previously planned.
The RNZAF still has three in-service Orions, with three already placed in storage, says the New Zealand Defence Force (NZDF).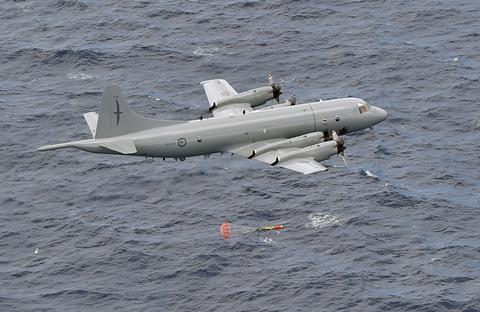 "High levels of attrition in the air force means it is not possible to safely maintain all of the RNZAF's current outputs requiring the P-3K2 Orion aircraft while also preparing for the introduction into service of the new [Boeing] P-8A Poseidon maritime patrol aircraft, and at the same time delivering the outputs expected of the air force by the government with its other fleets of aircraft," says the NZDF.
Additional personnel issues are created by the necessity of transferring staff pending the arrival of the RNZAF's new fleet of Lockheed C-130J-30 tactical transports in 2024.
Wellington has operated the P-3K2 since the 1960s.
News of the P-3K2's early departure from RNZAF use comes as its first of four P-8As arrives at RNZAF base Ohakea, following a recent delivery ceremony in Seattle. The remainder will be delivered in 2023.
The early departure of the P-3K2s will create a capability gap before the P-8As can fully assume their duties. In the interim, the RNZAF will perform maritime missions with other types including the C-130H, which it says can serve in the search and rescue role.
The RNZAF may also ask regional partners to provide assistance if necessary.
After retirement, the P-3K2s will be stored at RNZAF base Woodbourne, prior to being disposed of.
Separately, Boeing has announced that Lufthansa Technik will provide sustainment services for RNZAF P-8As, a type derived from the 737 airliner.
Under the deal, the MRO firm will provide a component services programme covering over 400 parts. Using the 737 supply chain helps operators of smaller fleets, such as New Zealand, tap the global supply chain for the type.
"Our collaboration with Lufthansa Technik is a strong example of how industry can work together to solve customer challenges and maintain high readiness rates," says Torbjorn Sjogren, Boeing vice-president and general manager, Government Services.
"Our goal is to expand service offerings from a strategic German industry partner for additional P-8A customers to benefit."
Berlin also has ordered five P-8As, with these to replace its navy's current P-3C Orion fleet.