The Royal New Zealand Air Force (RNZAF) has taken delivery of its first Boeing P-8A Poseidon maritime patrol aircraft at a ceremony in Seattle.
The aircraft is the first of four examples that the Pacific nation is acquiring to replace its six Lockheed P-3K2 Orions. New Zealand's Consul-General to Los Angeles, Jeremy Clarke-Watson, represented Wellington at the ceremony.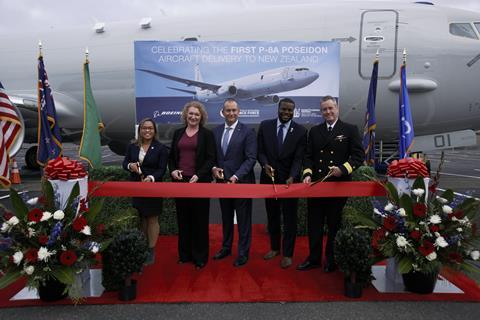 "For New Zealand, as a maritime nation and one of the world's largest Exclusive Economic Zones, the ability to quickly survey the ocean is vital," says Clarke-Watson.
"The P-8A capability ensures we can continue to deliver the country's maritime surveillance needs and to be able to offer assistance to our Pacific partners. It also adds a further connection within our long-standing defence and security cooperation with the United States, our close strategic partner."
The aircraft, obtained under the US government's Foreign Military Sales process, will be stationed at RNZAF Ohakea. Boeing will provide sustainment under its P-8 International Programme.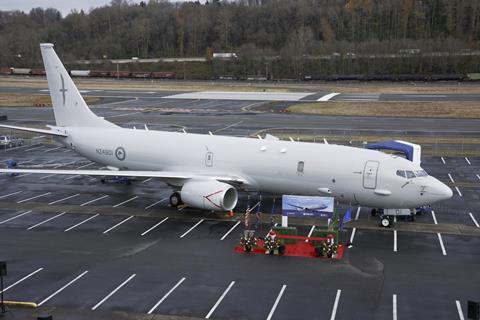 Wellington's remaining three P-8s are in "advanced stages of production", with delivery due in 2023, says Boeing.
"From the initial contract with the US Foreign Military Sales process four years ago, through to the construction of the fuselages in Kansas, the trip to the Boeing factory in Seattle, its first flight and the final fitout of this aircraft, this has been an incredibly smooth process," says New Zealand defence official Sarah Minson.
"On behalf of the Ministry of Defence, I offer my sincere thanks to all those involved in this project which represents a once in a generation investment to strengthen New Zealand's maritime surveillance capability."
Critically, New Zealand's obtaining of the P-8A ensures interoperability with Royal Australian Air Force and US Navy, both of which operate the type.
Boeing notes that eight countries either operate or have ordered the P-8, which is based on the 737-800 airframe, but equipped with the wings of the 737-900ER.
Globally, Cirium fleets data lists 159 P-8s as being in service, with 25 on order. In the Asia-Pacific region, Australia operates 12 P-8As, while India flies 12 P-8I Neptunes, which incorporate a significant amount of indigenous technology. In addition, South Korea has orders for five.