Contenders for the UK's New Medium Helicopter (NMH) requirement are due to meet with defence officials on 24 February, where they will likely be told of a further delay to the procurement process.
Aircraft suppliers Airbus Helicopters, Leonardo Helicopters and Sikorsky, alongside Boeing, which is pitching a support and training solution, were last October selected for the next stage of the NMH acquisition and were awaiting the launch of an invitation to negotiate (ITN).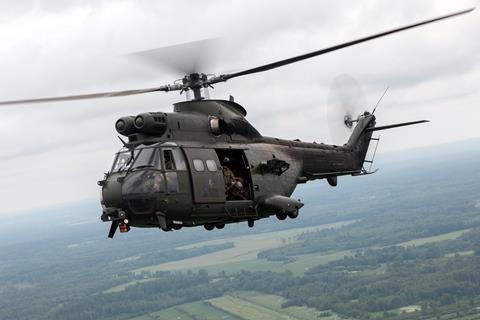 Under previous timelines, the ITN – in which the Ministry of Defence (MoD) will lay out its precise requirements, budget and timelines – was expected by the end of the first quarter.
But recent ministerial statements have seen a softening of language, moving from a deadline of 31 March to simply "later this year".
An official familiar with the process, addressing delegates at Defence IQ's International Military Helicopter conference in London on 21 February, declined to reveal the NMH programme's latest timeline.
A "supplier session" will take place on 24 February, the official says, during which the latest programme schedule will be detailed.
But inter-departmental tensions amid wider government budget cutting appear to be slowing progress with NMH.
"We are working incredibly hard now to secure the necessary cross-government approvals to allow us to launch the second stage of the competition as soon as possible."
Airbus Helicopters is pitching the H175M for NMH, while Leonardo Helicopters is proposing the AW149. Both would be built in the UK if selected. Sikorsky, meanwhile, is offering its S-70M Black Hawk, but has yet to detail its UK industrial plan.
Service entry had been expected in 2025 to match the out-of-service date of the Royal Air Force's (RAF's) Puma fleet but it is unclear if that goal can still be met under an increasingly compressed schedule.
But the official says the army is already eyeing a possible successor for whichever aircraft is selected for NMH.
The UK is a lead member of NATO's Next Generation Rotorcraft Capability programme and the output of that process would be a "potential replacement for the [Royal Navy's Leonardo Helicopters] Merlin from around 2040 and the NMH at a date to be determined".

Dominic Perry is deputy editor of Flight International but also contributes extensively to flightglobal.com. Although specialising in the coverage of the helicopter industry, he has written on most topics in aerospace – be they commercial, defence or business aviation. In addition, there has been an increasing focus on the decarbonisation of the industry and zero-emission flight initiatives.
View full Profile