Olivier Andries, Safran chief executive, says a three-way agreement with MTU Aero Engines and ITP Aero covering the development of a next-generation military powerplant has been reached with "no compromises at all".
The pact, revealed on 29 April, details the workshare arrangement between the parties for the engine that will power the Next-Generation Fighter (NGF) to be operated from the 2040s by France, Germany and Spain.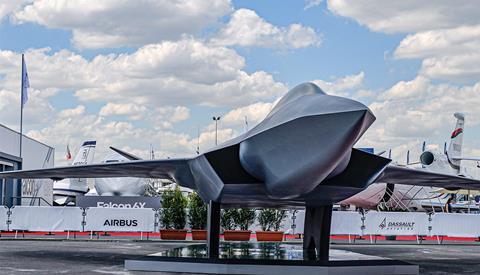 Safran Aircraft Engines will lead the design and integration of the propulsion system, with its EUMET joint venture with MTU as prime contractor; ITP is a "main partner" to the effort.
Concerns had previously been raised that the inclusion of ITP in the project – driven by Spain's admission to the Future Combat Air System programme in 2019 – would result in unequal workshare or other issues.
However, Andries said during a first-quarter results briefing on 30 April that the agreement was "satisfactory".
"We made very clear that certain underlying principles had to be respected in terms of clarity of responsibility, governance and also what we call the 'best athlete' principle: work has to be allocated according to demonstrated capabilities. This is where we are."
ITP will be responsible for the low-pressure turbine and nozzle, areas in which it already has experience, for example through the Eurojet consortium that builds the EJ200 for the Eurofighter.
As well as overall design and integration work, Safran will also look after the new engine's hot section. MTU will handle services and support activities.
Development of the NGF itself will be led by France's Dassault, with Airbus Defence & Space and Indra also participating.