Northrop Grumman confirms that the developmental B-21 Raider stealth bomber has moved off the production line and started ground tests.
The news marks progress in the US Air Force's (USAF's) effort to beef up its bomber fleet from the mid-2020s.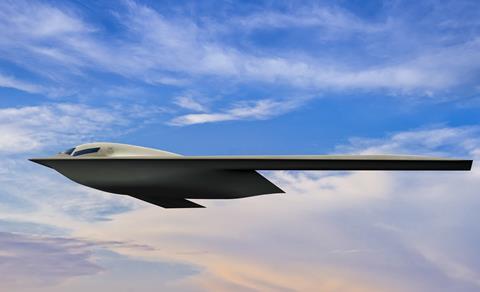 "The B-21 programme continues to make excellent progress," says Tom Jones, president of Northrop Grumman Aeronautic Systems.
"Our customer recently provided an update that six B-21s are in flow on our production line in Palmdale. I'm pleased to share that's already changed, as our first test aircraft has moved from the line and entered formal ground test."
He adds that the company's partnership with the USAF's Rapid Capabilities Office and Global Strike Command have speeded the development process, as have new business practices and digital engineering.
Jones gave no indication as to when the aircraft will conduct its maiden sortie or when, indeed, it will be publically unveiled.
In June 2021, the USAF released an updated rendering of the B-21. It was surprising for the unusual layout of its cockpit windows, with a triangle-shaped forward window and a diagonal parallelogram side window.
The 420th Flight Test Squadron based at Edwards AFB in California is tasked with planning for testing, analysing and reporting on all flight and ground testing for the aircraft, which is being built by Northrop in Palmdale, California.
The B-21 will ultimately replace the Boeing B-1B Lancer as well as the Northrop B-2. The USAF envisages having a bomber fleet comprised entirely of B-21s and extensively-modernised Boeing B-52s.