Northrop Grumman has secured a contract to modernise the US Navy's Boeing E-6B Mercury fleet, an essential link in the USA's Nuclear Triad.
The work is valued at $111 million and will take place at Northrop's facility in Lake Charles, Louisiana, says the company.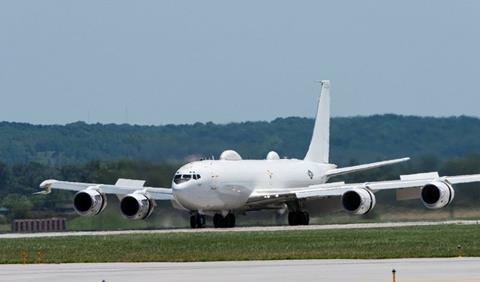 Derived from the 707 airliner, the E-6B provides communications to the US Navy's fleet of submerged ballistic missile submarines.
The submarines form one leg of the Nuclear Triad, the other two being the US Air Force's nuclear-armed bomber force and land-based intercontinental ballistic missiles.
The aircraft are also known by the acronym TACAMO – Take Charge and Move Out.
"We are laser focused on providing the most relevant capabilities while improving mission readiness," says Mary Petryszyn, corporate vice president and president of Defense Systems at Northrop Grumman.
"As leaders in aircraft sustainment and modernization, the US Navy's E-6B Mercury fleet is another example of our strong partnership with the Navy in achieving those goals."
The work will take place over five years, with modifications aimed at improving the type's command, control, and communications functions.
"As part of the critical [TACAMO] strategic communications mission, the E-6B operates across a wide frequency spectrum to transmit and receive secure and non-secure voice and data information," adds Northrop.
"The aircraft provides survivable, endurable, reliable airborne command, control, and communications in support of the President, Secretary of Defense, and United States Strategic Command."
Cirium fleets data suggests that the US Navy has 16 in-service E-6B TACAMO aircraft, with an average age of 32.5 years.