Space programmes, rather than traditional aviation, will drive growth at Northrop Grumman in the coming years.
Chief executive Kathy Warden and chief financial officer David Keffer shared that prediction during the company's earnings call on 27 October.
"We continue to expect space to remain our fastest-growing business, with sales growing by another $1 billion over 2022," says Keffer.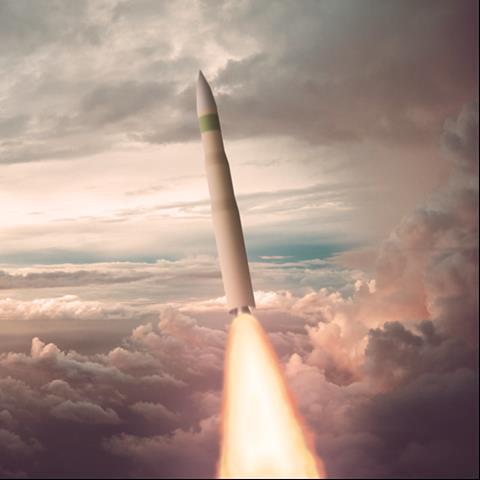 Northrop has an extensive portfolio of civil and military space contracts, including the US Air Force's (USAF's) next-generation ballistic missile system, known as the Ground Based Strategic Deterrent, and the solid rocket boosters for NASA's Space Launch System that is meant to take astronauts back to the Moon.
"The growth opportunity is broad based across multiple mission areas, from missile tracking to [intelligence and surveillance] and growth in our supportive launch capabilities," says Keffer.
He adds that the entire commercial space market is growing, but so is Northrop's market share within the sector.
Warden echoes that assessment, saying the company is working on multiple space programmes that will receive contract awards in 2024.
"For space, we've seen broad-base opportunities… and we expect that to continue", she says.
By contrast, Northrop's executive team expects revenue from traditional aviation manufacturing to be mostly flat through 2023 and 2024.
While the company is set to generate billions in revenue over the coming decades from production of the sixth-generation B-21 strategic bomber for the USAF, Keffer says those gains will be offset by declining revenue in the legacy aviation programmes Northrop supports, such as the Boeing F/A-18 Super Hornet.
The company also plays a major role in supporting production of Lockheed Martin's F-35 fifth-generation fighter, producing fuselages for the jet that Lockheed assembles in Texas.
However, Warden says Northrop currently lacks additional room to grow in that programme.
"We are maxing out at our limitations of capacity", she says, noting that Northrop works roughly 18 months ahead of Lockheed on producing its F-35 components.
"When you take all of those elements across the entirety of our portfolio, F-35 is pretty flat going into 2023 and we expect to be relatively flat going into 2024," she says.
Northrop also has substantial portfolios in munitions production and advanced communication systems. Warden calls the company's portfolio "extremely well aligned" with the national security strategy outlined by the Biden administration.
She sees "strong support" for many of Northrop's programmes in Washington, and the company is confident in funding for its current programmes, such as integrated air defence systems, precision missiles and airborne surveillance.