The French military is hailing a major advance with its Rafale combat aircraft, with the Dassault-built type poised to employ a raft of new operational capabilities.
Approved in March for introduction to the fleet and now involved in an operational test and evaluation (OT&E) activity, the fighter's new F4.1 standard represents the first stage of a three-part enhancement process which will further bolster its capabilities by late this decade.
"With this F4 standard France and the Rafale enter a new era of collaborative air combat," says General Arvind Badrinath, head of combat aircraft and Rafale programme director for the nation's Armament General Directorate (DGA).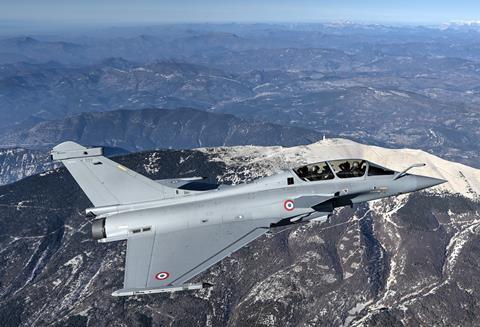 So far, several in-service aircraft have been brought up to the new standard from the currently operational F3R configuration, including air force B/C and navy M models.
"We modified six aircraft so that they could be used immediately on the [Charles de Gaulle] aircraft carrier and from air bases to test all the new enhancements in an operational environment," Badrinath says.
The update's key advance is around connectivity enhancements within a multi-aircraft formation of Rafales in support of air-to-air and air-to-ground tasks.
INFORMATION SHARING
"Now we can share all kinds of information from the radar, all the sensors, electronic warfare [EW], and optronics," Badrinath says.
Updates to the Thales RBE2 radar support enhanced ground moving target indication and tracking functionality, while the aircraft's modified infrared search and track sensor provides longer-range passive detection of airborne threats.
F4.1-standard aircraft gain the ability to carry up to three Safran Electronics & Defence 1,000kg (2,200lb) AASM "Hammer" GPS/laser-guided bombs. The Thales Talios laser designation pod gains a "permanent vision" mode, capable of maintaining target tracking in poor weather conditions. Optical fibres have been installed on the aircraft to relay HD-standard imagery from the sensor to the cockpit, where two new digital displays have been integrated.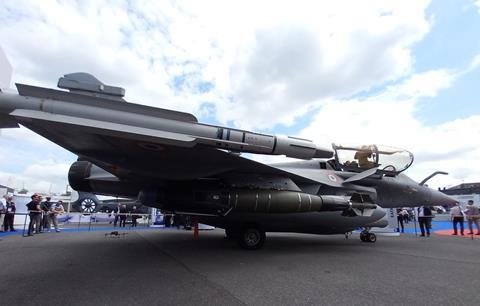 Additional benefits include the pilot's use of an enhanced Thales Scorpion helmet-mounted display to view relevant data, which Badrinath describes as "one of the game-changers".
Enhanced cyber-protection steps also provide data encryption, while the jet also gains communication system updates. A new onboard simulation capability also will support advanced training tasks.
"The aim is to have a global approach on firing air-to-air missiles actions, and to be robust if we are facing jamming or any kind of countermeasure in front of us," Badrinath says. "All the tactics can be really enhanced now, using these additional features."
OT&E activities will run into 2024, while an initial operating capability standard will be cleared for use before the end of this year. This supports a French schedule to employ modified Rafale Ms operationally on the Charles de Gaulle.
He says early experience during the test campaign has led the military to adopt the motto 'Now fight connected'.
Two F4.1-standard Rafales are on display at the DGA's outside exhibit at the Paris air show. An air force example appears with two 1,000kg Hammers and the Talios pod, while a navy M is configured with a full load of eight air-to-air missiles; another enhancement made possible via the latest configuration.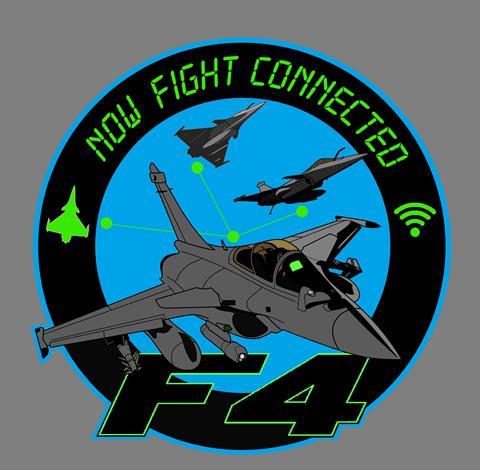 Later this decade, additional functions will be introduced via the F4.2 and F4.3 updates, among them a Thales software-defined radio and satellite communications. Qualification activities on the upcoming standards will be finalised in early 2025 and early 2027.
"There has been an incremental approach since the beginning of the Rafale programme," Badrinath says. "Each time there have been enhancements in all directions." He notes that the French armed forces provide feedback to the DGA every six months on potential future updates.
Badrinath describes the Rafale F4 as "a very effective aircraft, ready to realise any kind of mission. We have a product that is really ready for the next 10 to 15 years."
And he notes that for current and future international buyers of the multi-role type, "If you buy, you are part of the Rafale club", and able to benefit fully from France's investment in advanced technologies.
All F3R-configured Rafales – including those new examples to be delivered to the French air force this year – will be updated to the new mark by Dassault, the DGA or at a squadron level, with the task taking no more than one week for newly-produced examples.
Meanwhile, Paris is expected to within the coming weeks approve its next Military Planning Law, with the spending plan due to include a final batch of 42 Rafales for France.
FUTURE ADDITIONS
Longer term, a future F5 operating standard will in the 2030s add the ability to carry MBDA's in-development fourth-generation nuclear missile – dubbed ASN4G, and the Future Cruise/Anti-Ship Weapon family, which is to succeed the current SCALP-EG and AM39 Exocet missiles.
The French air force operates its Rafale B/Cs along with two other Dassault-built combat types. Operations with the Mirage 2000-5 fighter are scheduled to conclude during 2029, while a recently approved mid-life upgrade for the ground-attack-roled Mirage 2000D will see that type remain in use until 2035.
Meanwhile, the DGA will next year amend its current organisational structure to add the air force's Airbus Defence & Space A330 Phenix multi-role tanker/transports and navy's upgraded Dassault ATL-2 Atlantique maritime patrol aircraft within the combat aircraft portfolio.
The measure reflects ongoing steps to add expanded connectivity to the support platforms to work alongside the Rafale. "We can be even more effective, and have a global approach," Badrinath notes.

Craig Hoyle joined Flight International in 2003, and has edited the now monthly title since 2015. He has reported on the UK, European and international military aviation sector for more than 25 years, and produces our annual World Air Forces directory.
View full Profile