The Chengdu/Pakistan Aeronautical Complex JF-17 Block III fighter has made its Dubai air show debut with an appearance in the static park.
The aircraft on show is part of 16 Sqn, the Black Panthers. The JF-17 is also appearing in the show's flying display.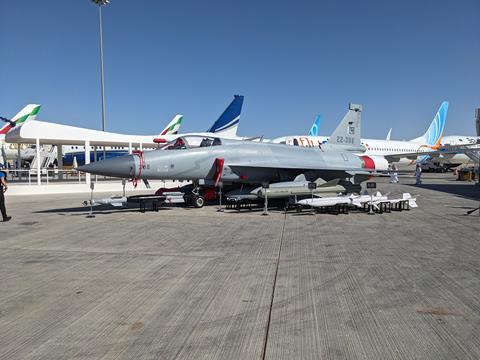 "The JF-17 Thunder Block III fighter jet epitomises the pinnacle of modern aerial warfare technology," says the Pakistan air force.
"Equipped with state-of-the-art avionics, enhanced weaponry, and advanced electronic warfare systems, the JF-17 Block III boasts superior manoeuvrability, extended range, and enhanced combat capabilities."
The aircraft on static is shown with air-to-air missiles and bombs, as well as an electro-optical/infrared targeting pod. It also includes an aerial refuelling probe, a capability lacking in earlier versions of the JF-17.
A key improvement with the Block III is the incorporation of an active electronically scanned array radar in the form of the KLJ-7A, developed by the Nanjing Research Institutie of Electronics Technology (NRIET).
NRIET has said that the KLJ-7A can track dozens of targets simultaneously and is highly resistant to jamming.
The aircraft is powered by a single Klimov RD-93 engine. The type is, however, likely to get a Chinese-made engine in the form of the Guizhou WS-13 Taishan.
Cirium fleets data indicates that the Pakistan air force operates 146 examples.
"[The JF-17's] participation in the Dubai air show signifies the confidence [the air force] places in this indigenous marvel, highlighting Pakistan's commitment to fostering self-reliance in the defence industry."
The JF-17 is pitched as a low-cost fighter for the developing world. Though Pakistani officials have long talked up its international potential for several years, it has secured few sales. Cirium fleets data shows that Myanmar operates seven examples and Nigeria three.
Argentina is reportedly considering the type, but the USA is trying to broker an alternative deal whereby Buenos Aires would take 33 used Lockheed Martin F-16s from Denmark.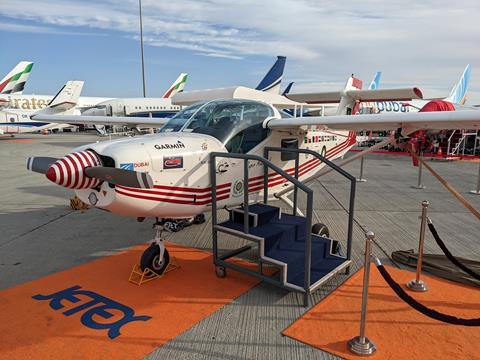 The Pakistani air force has also brought a Super Mushshak basic trainer to the show.
"This robust and reliable aircraft has been instrumental in nurturing the skills of countless [Pakistan air force] pilots, contributing to their excellence and expertise," adds the Pakistan air force.
"With its remarkable performance and adaptability, the Super Mushshak has garnered international recognition as a trusted trainer aircraft."