South African defence group Paramount has added anti-unmanned air vehicle (UAV) capabilities to its Mwari light attack and reconnaissance single-engined turboprop.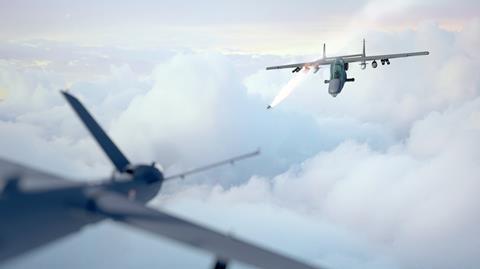 The additional features will allow customers to counter what the company maintains is a growing threat from medium-altitude, long-endurance (MALE) UAVs, without having to invest in ground-based air defence systems or jet fighters.
Paramount has been producing the aluminium-bodied, high-winged, tandem-seat Mwari – originally developed as the AHRLAC – since last year at a new factory in Wonderboom, near Pretoria, although the privately-owned firm will not disclose customer names or order details.
Paramount says the Mwari can loiter at a minimum speed of 110kt (203km/h) for up to 10h and can be fitted with 2.1nm (4km)-range air-to-air missiles as well as 800m-range wing-mounted cannon pods.
An encrypted, high-bandwidth datalink and multi-spectrum search and track sensors, as well as long-range optical and radar surveillance systems, are among the features that allow pilots to assess targets including 2,000kg (4,410lb)-class MALEs, according to Paramount.
"Historically, prohibitive costs have restricted anti-drone systems targeting MALE drone threats," says Paramount chief executive Steve Griessel. "[This] is where the Mwari perfectly steps in, the next and best-in-class precision technology, and able to operate at a fraction of the cost of alternative anti-drone solutions."
The Pratt & Whitney Canada PT6A-66B-pusher-powered Mwari can be rapidly disassembled, transported in an aircraft such as a Lockheed Martin C-130 and reassembled at a remote base, by a small crew, claims Paramount.
The Mwari is South Africa's first home-produced aircraft since the Apartheid era. Paramount invested in ADC, the company that designed the prototype, around a decade ago, and bought the rights to the platform outright in 2019.
Paramount is pitching the type at budget-constrained nations that need a cost-effective solution against asymmetric threats, including those in Africa, Latin America, and parts of the Middle East.
However, it is also partnered with US training company Vertex Aerospace and service provider Leidos to pitch a variant of the Mwari known as the Bronco II for the US Special Operations Command's Armed Overwatch programme, which is looking to source around 75 aircraft for close air support, precision strike, and intelligence, surveillance and reconnaissance missions.