The US military's top acquisitions official says the current model of just-in-time industrial production will fail to meet the country's materiel needs during a high-intensity conflict.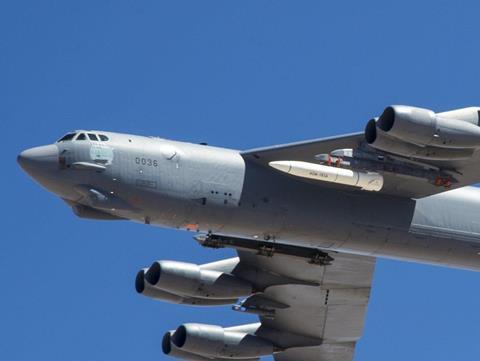 US undersecretary of defense William LaPlante, speaking at an industrial conference in Washington on 15 March, said the USA's defence industry must move away from a production model centred on minimising costs through limited warehousing of input materials.
"To meet the pacing challenge of China, there needs to be a shift away from the just-in-time mindset as it relates to sustainment and procurement," LaPlante says.
The declaration will not surprise the defence industry. Since Russia's 2022 invasion of Ukraine triggered Europe's first high-intensity land war in decades, executives at major weapons manufacturers have been sounding alarms about high rates of munitions consumption.
Chief executives such as Raytheon Technologies' Gregory Hayes have warned that rates of fire observed in Ukraine vastly exceed the capacity of US defence firms to produce the highly technical precision munitions needed to sustain the USA and allies in near-peer conflict against Russia or China.
Hayes and others have urged the Pentagon to act now to increase its peacetime stockpile of such munitions. US lawmakers in December empowered the Department of Defense (DoD) to acquire thousands of additional precision weapons over the coming years.
Washington's Indo-Pacific ally Australia is undertaking a similar effort to get "more missiles in the cupboard", collaborating with Lockheed Martin and Raytheon.
However, LaPlante says the defence industry must find ways to boost overall production.
"Over time, the industrial base has prioritised efficiency over resiliency," he says. "We've allowed production lines to go cold, watched as parts became obsolete and seen sub-tier suppliers consolidate or go out of business entirely."
LaPlante does not place blame on private sector manufacturers, but acknowledges budgetary choices made in Washington drove the move toward ultra-efficient, low-resiliency production.
"These were conscious decisions jointly made by the department and the Congress, in the face of competing priorities," he says. "No one anticipated the prolonged high-volume conflict we're seeing in Ukraine."
The acquisitions chief notes that precision weapons being provided to Ukraine by the DoD can take as long as two or three years to produce. While producers such as Raytheon and Lockheed have moved to expand production and reopen shuttered lines, LaPlante acknowledges those are expensive and potentially risky investments.
"Their complex production lines simply can't be turned on or off based on the requirements of the day," he notes. "Industry rightfully remains reluctant to build additional capacity at risk, until they have a clear, consistent demand signal or business case from the DoD."
Multi-year procurement contracts, such as those recently authorised by Congress, are one means to provide more-consistent demand, LaPlante says. He notes that, at the outset of the Ukraine war, the Pentagon created a new team called the Munitions Industrial Base Deep Dive to analyse parts obsolescence, supply chain constraints and production status and capacity for key weapons systems.
The DoD, LaPlante says, is also working to develop new manufacturing techniques for functions such as rapidly producing metal components in small batches. Overseas allies should be encouraged to join the Pentagon's innovation effort, he adds.
"By leveraging this kind of innovation, which enables flexibility, we can stabilise the industrial base and build it for the future and ensure we're delivering the capabilities we need," LaPlante says.
However, achieving those goals will require years of sustained investment in defence production on the part of lawmakers in Washington. While there appears, at the moment, to be substantial bipartisan consensus on the need to militarily counter China, the ephemeral nature of politics in the American capital always leaves uncertainty about the longevity of such agreements.