The skies over Washington, DC will soon be observed for possible threats by artificial intelligence (AI).
The Pentagon on 28 August said it will spend $100 million on a new AI-powered airspace monitoring system, following the successful conclusion of what defence officials call an 18-month prototype demonstration.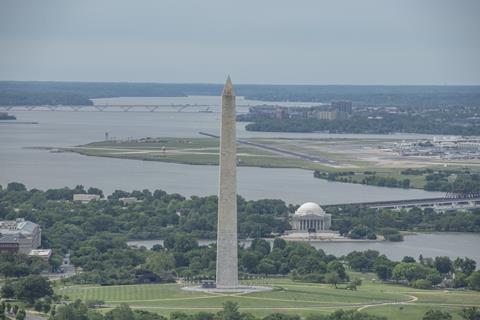 "It's a cutting-edge surveillance, identification and tracking system that monitors and defends the controlled airspace around Washington, DC," says US Air Force Lieutenant Colonel Kurtis Engelson, a materiel leader for the USA's National Capital Region-Integrated Air Defense System.
The Washington, DC air defence system is controlled by the Colorado-headquartered North American Aerospace Defense Command.
The new AI-powered system was developed by Teleidoscope – a Los Angeles company that produces visual tracking software for moving objects. The firm's website says its products can be used to "automatically track moving objects like UAVs, people and vehicles".
Fielding of the new Teleidoscope system will begin before the end of 2023, according to the Pentagon.
While AI agents are not meant to be entirely independent, they can be used supplement human workers by "highlighting objects an operator might not otherwise be able to see", Teleidoscope says.
The Pentagon says the AI system will represent a "tenfold increase in performance capability" compared to a current airspace monitoring platform put in place after the 11 September 2001 terrorist attacks.
Improvements include upgraded cameras and eye-safe lasers used for tracking and visually warning aircraft in violation of special airspace restrictions near the US capital.
"The updates significantly improve air-defence operators' ability to positively identify aircraft and aim warning lasers at much-further ranges," Engelson says.
He says the laser-warning technique will provide airspace monitors with a rapid means of contacting pilots after radio attempts fail.
The USA's Defense Innovation Unit (DIU), which helps the Pentagon adapt commercially-available products and technologies for military service, says the airspace monitoring technology could eventually be adapted to help defend the skies above smaller military assets, such as air bases or ships.
"The technology has broad national defence applicability… for defence against asymmetric and near-peer threats like unmanned aerial systems and cruise missiles," says Nick Ksiazek, the DIU programme manager for the effort.