The US government has cleared the resumption of deliveries of Lockheed Martin F-35s, despite the presence of a component made from China-sourced material.
A special waiver will allow 126 F-35s in production lots 12-14 to be delivered, which should provide for deliveries until 31 October 2023, according to William LaPlante, Under Secretary for Defense for Acquisition and Sustainment at the US Department of Defense (DoD).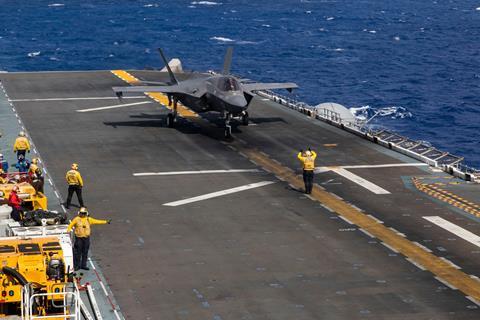 "Today, I signed the National Security Waiver that allows DoD to accept Lot 13 and Lot 14 F-35 aircraft containing non-compliant specialty metals in Honeywell Integrated Power Package Turbomachines," says LaPlante.
"Acceptance of the aircraft is necessary for national security interests. This determination applies to a total of 126 F-35 aircraft awaiting delivery or to be delivered under the Lot 12-14 production contract."
In early September, the F-35 Joint Program Office (JPO) suspended deliveries following the revelation that a pump in the F-35's turbomachinery incorporates a magnet made from metal sourced in the People's Republic of China.
Assembled by Honeywell, a supplier to Lockheed on the F-35 programme, the turbomachine is an integrated power system that combines the functions of an auxiliary power unit and air cycle machine to provide ground power for maintenance and main engine start, as well as compressed air for thermal management.
The magnet itself is part of a lubrication pump produced by an unnamed subcontractor.
Honeywell, for its part, has said that it has stopped working with the supplier in question, and is switching to a US supplier.
A joint review by Lockheed, Honeywell and the JPO concluded that magnet poses no flight safety issues, and does not provide "any visibility or access to sensitive programme information".
It later emerged that of the over 800 F-35s delivered so far, every single aircraft has the China-sourced magnet.
Under a rule known as the Defense Federal Acquisition Regulation Supplement, defence manufacturers are restricted from using raw materials sourced from unfriendly nations such as China, North Korea and Russia.